A Lower Risk Way To Trade Emerging Markets
Article by: www.markettamer.com, 2/5/2015.
We all know how volatile the markets have been during the past few months – including the Russian market and the Oil market (as described in detail here:https://www.markettamer.com/blog/ready-to-go-bottom-fishing-with-putin; https://www.markettamer.com/blog/how-to-bottom-fish.)
In that context, it is worthwhile to note that, throughout the past couple of decades, one of the most consistently volatile equity spaces has been that of "Emerging Markets", as we can see in this chart of its biggest and most liquid ETF: iShares MSCI Emerging Markets (EEM):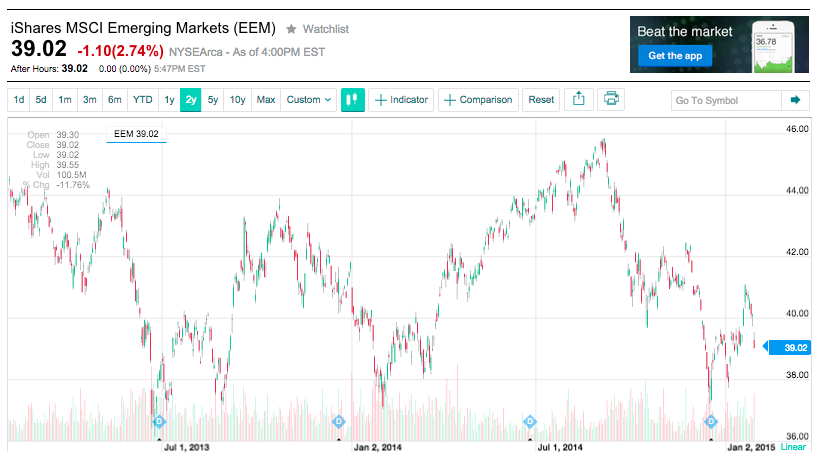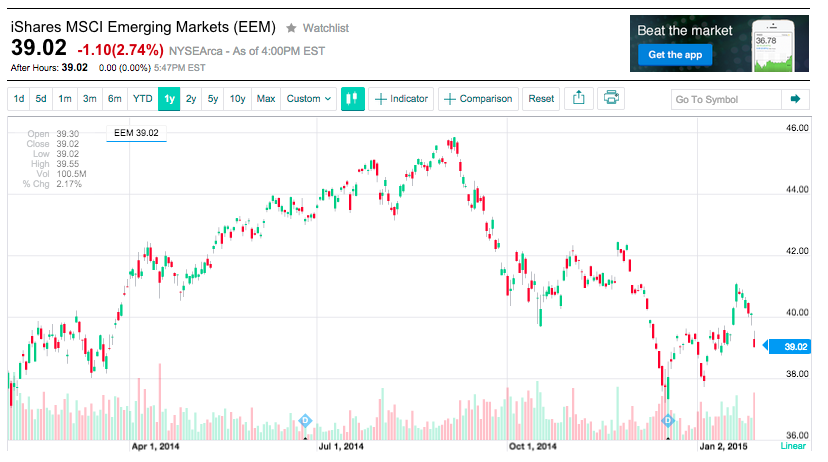 But something really interesting happened on January 20th!  The Eight-Period Exponential Moving Average (8 EMA) crossed above the Twenty-One Exponential Moving Average (20 EMA)  … a bullish sign!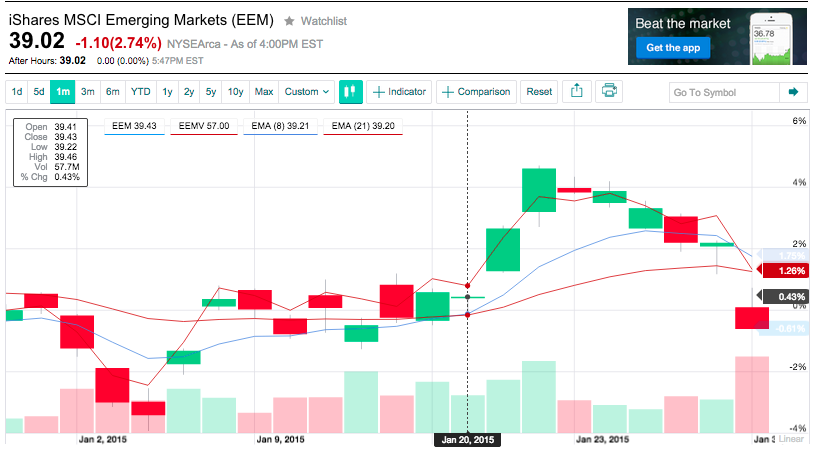 We have just entered into February, and (alas) anyone who purchased EEM based on that "signal" is (at least through January 30th) sweating out the trade…. because after initially shooting upward,EEM has since fallen off.
A word of caution is warranted here.  The Emerging Markets space is significantly more volatile than the S&P 500 Index within the U.S.: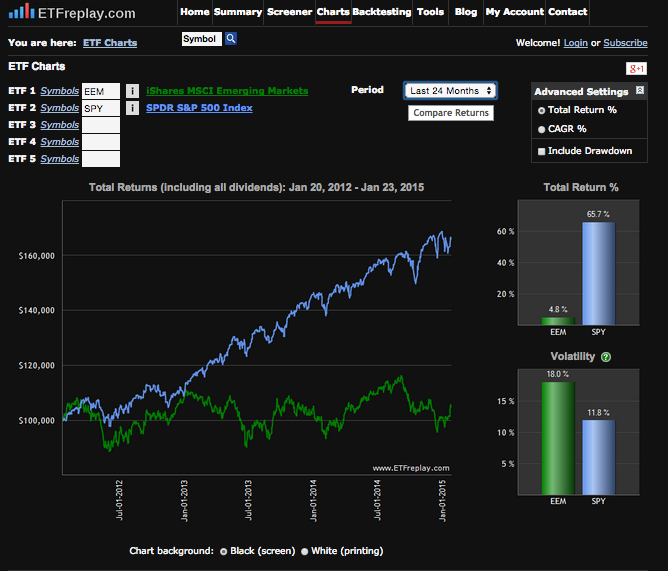 Let's consider some of the reasons why the Emerging Markets space is more volatile than the U.S. market (on average):
1) More political instability
2) More volatile currency (example, when the U.S. Federal Reserve whispered "Taper" in May of 2014, the emerging markets were among the most significantly impacted).
3) More dependent upon natural resource products (including agriculture and mining) instead of manufactured products.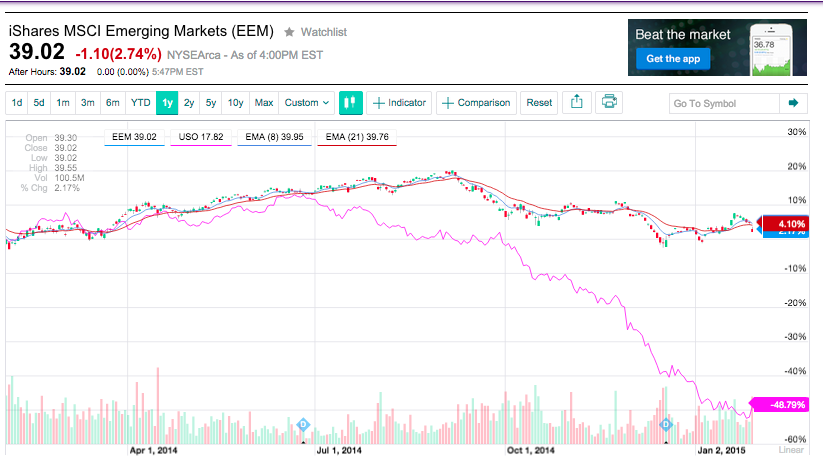 4) Market expectations/confidence are not as firmly embedded with regard to emerging market stocks as they are toward "Developed Market" equities.
Everyone who watches the daily financial news knows what a prominent (and manic depressive) role economic news reports coming from China plays within daily market activity (in my opinion, a disproportionate role). Add that fact to the fact that a number of key emerging market countries depend upon oil exports (like Russia) and precious metals exports for economic success… and it is no wonder that EEM has had a wild run in recent months! [And don't forget that Brazil is a major component within EEM… what a mess!]
However, for those who enjoy regular trips to Las Vegas … and are imbibed with a spirit of adventure… the Emerging Market space can be an interesting point of focus!
Here are some key descriptors related to EEM: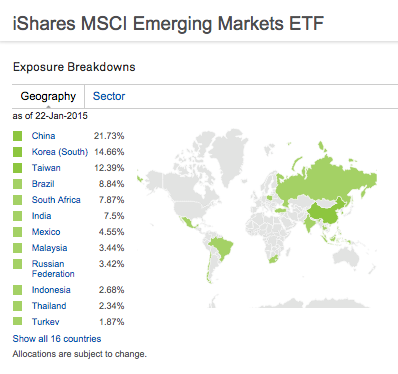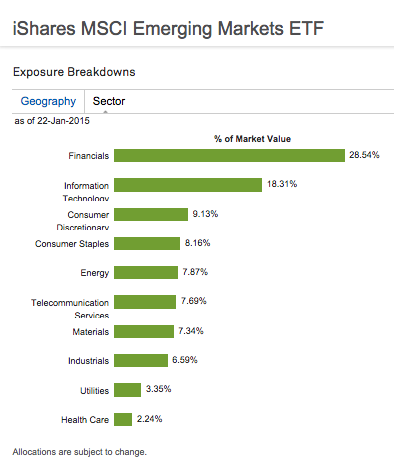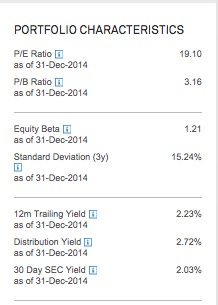 The two most obvious "trading pluses" of EEM are:
1) Trends are more pronounced… so if you are "right", you can profit quickly; and         (related)…
2) Volatility is higher so you could capture (on average) higher premium through credit spreads.
Of course, the above two "pluses" assume that you have a discipline and expertise capable of capturing trading profits through these features within the emerging market space!
It bears mentioning, as well, that there have been years (before 2010) when the Emerging Market Space has outperformed the U.S. S&P 500 Index!
Besides the "8 EMA/21 EMA Crossover" on January 20th, why am I writing about this topic now?
For several reasons:
1) If Oil has reached a stable "bottom" (a big "if");
2) If Russia has found a bottom (another sizable "if");
3) If China does not fall off a "cliff" because of its many years of government fostered "loose money" crowding into real estate (see the China articles, including a narrative about Chinese  "Ghost Cities": https://www.markettamer.com/blog/what-is-the-chinese-conundrum-of-china; https://www.markettamer.com/blog/t[1]he-chinese-conundrum. )
4) If Brazil can "right its ship" and restore global confidence in both its government and its economy …

the Emerging Market space could prove quite profitable.
But is there a "better way" to take a position within that space than EEM?
During the rest of this article I will endeavor to explain why I think there is such a "better way".
Let's take a look at two other ETFs within the Emerging Market space and compare them to EEM: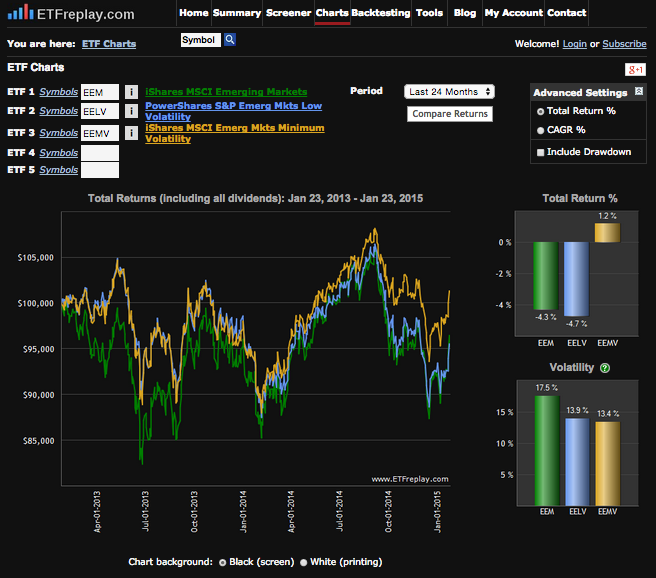 Understanding that the GOLD-colored ETF outperformed both the GREEN-colored one (EEM) and the BLUE-colored ETF over the past two years by over 16%… while experiencing significantlyless volatility… which ETF would you rather own?
Why of course you'd rather own the GOLD-colored ETF!
Since you are surely wondering what the "Secret Sauce" is that enabled the GOLD ETF to perform so much better… it is through the use of a "Minimum Volatility" strategy[2].
The ultimate objective of ETF strategies that focus on adjusting Volatility within any particular portfolio is to achieve a Risk-Adjusted Return that is superior to a related "standard index".  Another way of saying this is that the "low vol" funds endeavor to "capture Beta, while offeringbetter Alpha"![3] In this case, the "standard" index [which the others are trying to outperform] is the MSCI Emerging Markets Index.   …
At this point (if you did not already read it) you will greatly benefit from accessing and reviewing our recent article on "Low Volatility" strategies:
https://www.markettamer.com/blog/a-virtual-neck-brace-for-volatility.
Lest you wonder if the two-year performance shown above was no fluke.  Here is the relative performance of these same ETFs over the most recent 12-month period: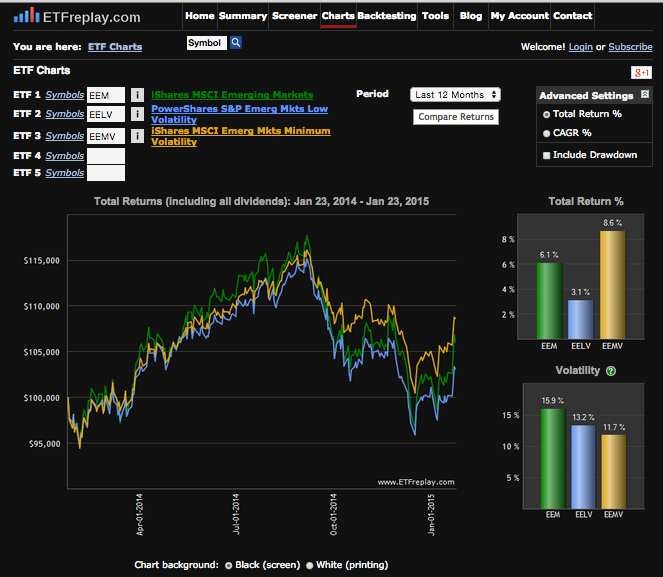 We've already looked at EEM. The BLUE-colored ETF is the PowerShares S&P Emerging Markets Low Volatility ETF (EELV) while the GOLD ETF is iShares MSCI Emerging Markets Minimum Volatility ETF (EEMV).
I think you will agree that on a Risk Adjusted basis[4], EEMV has demonstrated outstanding relative performance!  Therefore, let's dissect a bit of the characteristics of the EEMV ETF: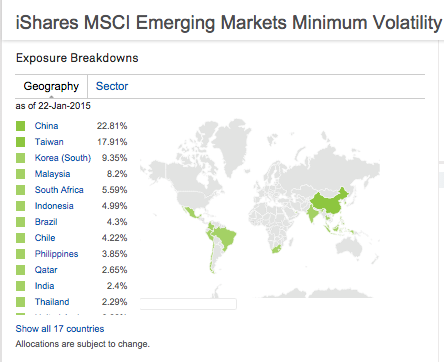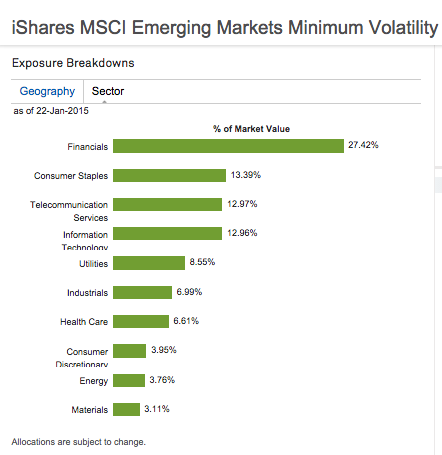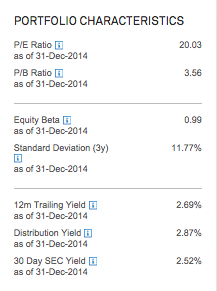 INVESTOR TAKEAWAY:
Financial experts agree that the "average" portfolio will benefit over time from an allocation within the Emerging Markets space.  For example, EEM is not highly correlated with either U.S. Equities or U.S. Fixed Income, so the portfolio is thereby diversified via both a broader geography and a greater number of company stocks.  Consequently, there are worthwhile benefits that can accrue within a portfolio when it captures some of the economic growth for which those markets are famous.[5]
In addition, as was suggested earlier in this article, the emerging market space can be fruitful as atrading vehicle (primarily swing trading) for those who are both knowledgeable and willing to accept and manage greater risk in return for a potentially greater reward.
The most important question I am posing to you today is this:
"Is the EEMV ETF a more attractive vehicle for these purposes than is the EEV ETF?"
I will leave the answer to that question for you to answer upon further review and reflection.
DISCLOSURE:
The author owns mutual funds within the Emerging Markets space (but neither EEM nor EEMV) because the particular account within which that allocation is located does not permit the use of ETFs. Nothing in this article is intended as a recommendation to buy or sell anything. Always consult with your financial advisor regarding changes in your portfolio – either subtractions or additions.
 FOOTNOTES:
[1] Government controls on the Real (currency) and horrible scandals within the internationally famous Petrobas (PBR), along with fiscal issues, have done great damage.
Not All 401k's Are Alike: How to Recognize and Fix a Bad 401k
Most people believe that a 401k is beneficial. This type of investment can provide the same percentage of a retired person's income that pensions once provided. However, there are millions of people haven't a clue whether their 401k plan is a good one. Many have inadequate funding options and excessive fees.
It could end up causing you to lose hundreds to thousands annually. The costs associated with a plan will range, making it a complicated ordeal to find out what you are paying. According to an AARP survey, there are not many who catch that they are in fact paying someone to invest into their plan.
What Do the Fees Look Like?
There is a lot of confusion around the charges these plans can have. The largest of three standard fees is known as the investment management fee. The costs can vary from up to 2% to 3% of assets for actively managed funds down to 10 basis points for institutional shares of index funds. There is also a plan administration fee paid to businesses that run day-to-day management of the plan. Expect to pay around $100-$200 if it's out of pocket. The last of the three is the 12b-1 charge – a recurring fee used to fund commissions for salespeople and brokers.
On top of these three main fees, count on an individual service fee for additional services, like loans from your 401k or for using a brokerage window.
David Walters, CPA and certified financial planner with Palisades Hudson Financial Group said that altogether, the charges can range from 50 basis points (which is half a percent) up to 3%. He believes people should be suspicious of those that ask over 1%. He also noted that it could make a significant difference in what workers get to spend when they retire.
A report by the liberal think tank Demos found that married couples who invested consistently and never made withdrawals would have lost up to $154,000 in fees, about a third their entire savings.
Are There Any Stats?
It may not always be possible to get the best plans out there. Small companies, in particular, have more fees as they don't have any negotiating leverage to reduce them. They often do not in-house experts to research plans and find the best deal for the employees.
Yoav Zurel, CEO of FeeX, says one shouldn't assume that working for a large company means you will have minimal fees or optimal investment options. He adds that only about 40% of the largest companies have optimized their 401k.
The good news is that according to BrightScope, 401k charges have been dropping annually since 2009, and the pattern is expected to continue.
This is most likely because more people are learning to pick the best plans possible for them. Brooks Herman, Bright Scope's director of research, said that it's because of the rise in plan sponsor awareness. In 2012, the Department of Labor mentioned that companies are to disclose fund fees to their customers each year.
Rick Meigs, president of 401khelpcenter.com, said that even with that, few people ever take the time to read over their plans. Still, he commented there is always that one individual from the pool of employees that will take the time to read it and when they take the time to do go through it, it benefits the majority.
Is it Possible to Make a Bad Plan Work?
FeeX has researched and analyzed annual reports and individual plans. They suggest alternative investments within each plan to lower charges.
Even with new disclosures, some workers may still be stuck with less than ideal plans. If you are in that predicament, Walters believes it's best to find workarounds to place yourself in a better financial position.
You can begin by using index plans as they often have lower charges and 88% of plans include them. However, don't think that's the only answer. S&P 500 funds can charge 80 basis points when you can get the same thing from Vanguard for only five basis points. Nearly 50% of 401k plans have brokerage windows that allow you to invest in any mutual fund, exchange-traded stock or fund which is available at any brokerage. Doing so may also help with lowering costs as you have access to an entire universe of low-cost fund options and exchange traded funds.
It's time to start taking financial matters into your hands. Start talking to your spouse about it if you are married, and sit down with your boss. Talk to your boss about improving the plan for the company as a whole.
If you are currently working in a small business, the company owner will likely be the plan's biggest participant and shouldering a majority of the charges. Keep that in mind and remember to tread gently when bringing up the topic. Zurel, of FeeX, says you should never accuse your employer of anything, and instead, believe that they are doing the best that they can. After all, they too have the same interest as you and would like to have lower fees themselves.
In today's 'Shout-Outs! With Russ Whitney' video, Russ discusses what he calls his Goldmine Ad.
"This is how I find most of my really good deals…" says Russ. "Always run the ad under income properties for sale."
Abercrombie has become troubled over the past decade
Abercrombie & Fitch Co. (ANF) Chief officer electro-acoustic transducer Jeffries, World Health Organization helped produce the definitive wardrobe for Nineteen Nineties teens before losing his standing as a tastemaker in recent years, is stepping down. Jeffries can retire now as corporate executive and a member of the board, the New Albany, Ohio-based company aforesaid these days during a statement.
The corporate conjointly suffered from broader call shopping-mall traffic, causative to eleven quarters of same-store sales declines and a 77 percent plunge in profit last year. Jeffries's departure reflects a modification in strategy, aforesaid Simeon Siegel, a replacement York-based analyst at Nomura Holdings Iraqi National Congress. This is what individuals are looking forward to," he said. "They've not been proud of the results. Therefore in theory, modification is nice." The shares jumped 8 percent to $28.46 once the move was proclaimed, marking the most important one-day gain in additional than 9 months.
Abercrombie had already stripped Jeffries of his chairman role earlier this year. Whereas the temporal arrangement of the modification — but a month before Christmas — could appear abrupt, merchandise, discount and promoting plans for the season have long been set and therefore the corporate executive search won't have an effect on execution in stores, he said. Photographer: archangel Loccisano/FilmMagic for Paul Wilmot Communication. Electro-acoustic transducer Jeffries, former chief officer of Abercrombie & Fitch Co. "The temporal arrangement could be a byproduct of an extended method over many months," Martinez aforesaid in associate degree interview. "Succession designing within the council chamber these days is topic No. 1. Choice of a corporate executive is that the most significant duty a board has."
Like several teen-apparel retailers, Abercrombie began troubled over the past decade, hurt by e-commerce competition and therefore the rise of fast-fashion chains like H&M. The company's next corporate executive can got to facilitate the corporate adapt to the chop-chop dynamic trade, Martinez aforesaid. "It's not like they're getting to be aimless while not a corporate executive. As a part of the makeover, Hollister stores area unit additional bright lit and therefore the company has turned down the music. "He really was the whole," aforesaid Terre Simpson, president of recent York-based executive-search firm Simpson Associates. "Now it's virtually as if they have retail psychotherapy to see what the whole direction ought to be."