The Capitalist Newsletter – April 20, 2017
EXXON MOBIL SEEKS WAIVER FROM U.S. SANCTIONS ON RUSSIA; LOOKS TO RESUME JOINT VENTURE WITH RUSSIA'S STATE OIL COMPANY
As tensions mount with Russia over Moscow's relationship with Syria and its president, Bashar al-Assad in the wake of last week's chemical attack on Syrian citizens, Exxon is trying to work with Russia to drill for oil. However, that violates U.S. sanctions placed on the country by President Obama for Russia's annexation of Ukraine. With former Exxon CEO Rex Tillerson, who has had a particularly friendly relationship with Russia, acting as Secretary of State, can Exxon get the go ahead to partner with Russia and start drilling in the Black Sea?
Read The Capitalist's Take Here
---
FOX STAR ANCHOR BILL O'REILLY FORCED OUT AMIDST PUBLIC PRESSURE FOLLOWING SEXUAL HARASSMENT SETTLEMENTS
Bill O'Reilly's 21-year career at Fox News has come to a sudden and ignoble end. "The O'Reilly Factor" has been canceled amid a cloud of harassment allegations against the conservative broadcaster. Rupert Murdoch and his sons James and Lachlan, who run 21st Century Fox, made the announcement Wednesday afternoon. "After a thorough and careful review of the allegations, the Company and Bill O'Reilly have agreed that Bill O'Reilly will not be returning to the Fox News Channel," Fox said. In a statement of his own released later Wednesday afternoon, O'Reilly said.
Read More at Washington Post Here
---
WHITE HOUSE CLAIMS IT DID NOT MISLEAD THE PUBLIC ABOUT CARRIER HEADING TO NORTH KOREAN WATERS
A US aircraft carrier-led flotilla that the White House said last week was "steaming" towards North Korea to increase pressure on Pyongyang was actually thousands of miles away heading in the opposite direction. The USS Carl Vinson and three other ships were on Tuesday heading towards North Korea but only after a string of misleading statements about their original course put out last week from the Trump administration. The confusion about the flotilla's course threatened to …
Read More at The Guardian Here
---
Closing Bell
– Wednesday, April 19th
Markets See Mixed Closes as Crude Slides 4%
Big Insider Trades
– NIKE, Inc. (NKE) EVP Hilary Crane Sells $3.6 million
– Axovant Sciences Ltd. (AXON) Principal Executive Officer David Hung Sells $10 million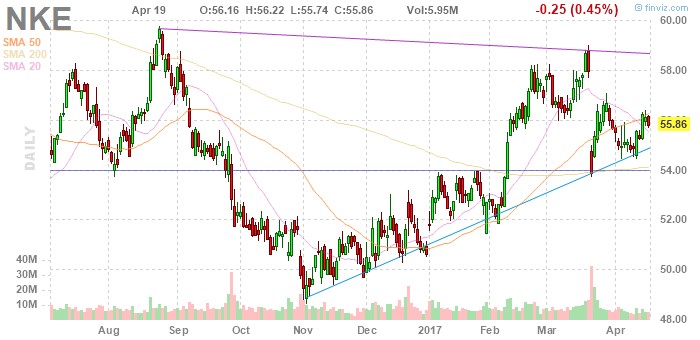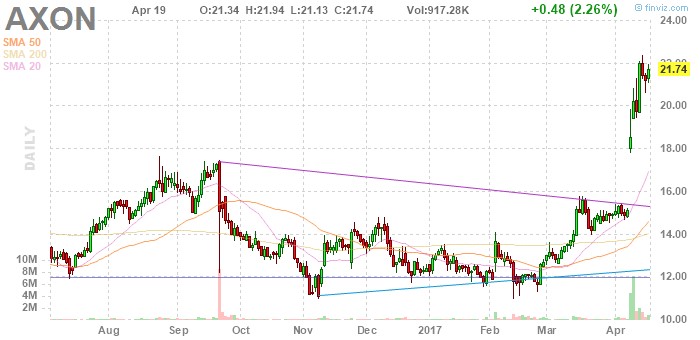 Winners & Losers
– Cleveland BioLabs, Inc. (CBLI) Continues to Rise UP (46.13%) on Progress of Anti-Radiation Poisoning Drug
– Libbey, Inc. (LBY) Falls DOWN (25.57%) on Company's Warning of Quarterly Financial Loss)
Most Talked About
Interpace Diagnostics Group, Inc. (IDXG) Considered a Majority Strong Buy After UnitedHealth Agrees to Cover Company's Test for Biopsies
The TIP Sheets
– Wednesday, April 19th
– Fred's, Inc. (FRED) Slips DOWN (9.10%) After Report FTC Will Sue to Prevent Merger with Rite Aid. Expect Shares to Continue DOWN
Unusual Volume
Soligenix, Inc. (SNGX) Soars UP (43.58%) on 27m Shares Traded Ahead of Ricin Vaccine Data Presentation. Results will be Presented at 20th Annual Conference on Vaccine Research. Expect Shares to Continue UP