Growing VS Dying World Economies
The records say that there is a downgrade of the world's total GDP for 2016 from a January prediction of 3.4% to a 3.2 %
However, first world economies have had evidence of growth, despite being a lot slower than many would hope.
Significant events/factors which have slowed down the global economic growth are:
The drop in oil prices, mainly taking its toll on nations like Russia and the Middle East.

There is also a significant slowdown in markets that are merging.

The increase in terrorism, immigrants, and international aid.

The wars in Syria, Libya, Ukraine, and other Middle Eastern areas.

Cold War tensions between USA and Russia, consequently resulting in sanctions and exclusions.
Although heightened world mishaps have broken out, this doesn't mean that everyone has been suffering.
[ms_divider style="normal" align="left" width="100%" margin_top="30″ margin_bottom="30″ border_size="5″ border_color="#f2f2f2″ icon="" class="" id=""][/ms_divider]
[ms_featurebox style="4″ title_font_size="18″ title_color="#2b2b2b" icon_circle="no" icon_size="46″ title="Recommended Link" icon="" alignment="left" icon_animation_type="" icon_color="" icon_background_color="" icon_border_color="" icon_border_width="0″ flip_icon="none" spinning_icon="no" icon_image="" icon_image_width="0″ icon_image_height="" link_url="https://offers.thecapitalist.com/p/warrenbuffet/index" link_target="_blank" link_text="Click Here To Find Out What It Said…" link_color="#4885bf" content_color="" content_box_background_color="" class="" id=""]Warren Buffett Just Told His Heirs What He Wants them To Do With His Fortune When He Dies. [/ms_featurebox]
[ms_divider style="normal" align="left" width="100%" margin_top="30″ margin_bottom="30″ border_size="5″ border_color="#f2f2f2″ icon="" class="" id=""][/ms_divider]
The world's fastest growing economies:
The IMF has reported Myanmar to be the world's fastest growing economy currently, with an estimated GDP growth set at 8.6% for this year.
The country has experienced reforms economically and politically; making headlines all across the world. Myanmar has high confidence from both consumers and investors.
Typically, numerous small countries in the Middle East and Africa are going through this same pattern of transition, nations like:
Tanzania

Bangladesh

Bhutan

Iraq

Cambodia

Senegal

Vietnam

Rwanda

Panama

Laos

Ivory Coast
Why are small countries experiencing a spike in growth?
Many of these developing nations have managed to become a democracy, from previously being under military rule – this has allowed for an increase in exports and for new foreign investment and markets to emerge.
However, poverty and inequality are still rife in these countries.
How about fast growing first world countries?
For this year, advanced economies expected to project 2% growth – not including Japan. India has been enjoying great prosperity, with GDP reaching over 7%.
There is a public outcry of China's slow turn, but since moving to service and finance markets from manufacturing, growth for that nation has been forecasted to grow by 6% – IMF figures are looking to increase for 2017.
But it must be mentioned that both imports and exports are still down in China, which is having a knock-on effect on foreign economies.
The world's slowest economies:
Yemen
This nation's economy is energy-dependent and has been burnt by the 2014 Oil crash – while currently experiencing a civil war.
Domestic troubles for Yemen include:
High unemployment.

An accelerated population boom.

Stern famines.

A decline in water resources.
Russia
Another economy reliant on the energy market so has suffered from the result of falling oil prices. Also, they have increased spending on the military, have sanctions imposed by the USA, government interference with the private sector and fundamental issues.
However, for 2017, Russia is predicted to grow its GDP by 2.5%.
Brazil
Many factors have caused Brazil's frail economy to fracture, these include:
The government's attempt to revive economic growth, by making cuts for industry and incentives to household consumption.

Brazil's current account and fiscal balances have decayed.

The World Cup in 2014 was also a burden to the economy.
Croatia
This nation has still been left behind from the recession in 2008, which has not been able to bring down its unemployment rate, encourage foreign investment and lack of regional development.
GDP shrank by 0.4% in 2014.
Serbia
Similar to Croatia, Serbia has never brought down the unemployment rate since the global recession – while household incomes have remained stagnated, and structural reforms have been an ongoing delay.
Other domestic issues in Serbia:
An aging populace.

Extremely high levels of corruption.

An ineffective judicial system.
Saint Lucia
This country experienced a devastating blow to its tourist-dependent economy after the recession hit, and it has never been able to recover since. Even airlines have cut the frequency of flights to go there.
It is always vulnerable to a decline in tourism when the global economy slows down.
Libya
This nation's GDP fell by a staggering 24% in 2014, despite the government taking significant sums of money from energy supplies – the fatal error being no investments helping into a developing economy.
Libya also experienced a civil war in 2011.
The primary cause of the 24% fall was by the war and major protests causing disruptions to oil ports around the country.
Ukraine
Initially, the economy took its first hit when the financial crisis initiated. It did manage to bounce back in 2010 but was then devastated again after Russia annexed Crimea (causing GDP to fall by 6.8% in 2014).
Lack of reforms and political corruption is still holding the country back from any future growth.
What to expect for the rest of the year…
Despite growth only reaching a 3.1% rate for this year, it is still moving in the right direction – which is surprising considering all the challenges that face the world. Emerging economies will continue to speed ahead while other corners of the world will be devastated by war and commodity prices.
Oil prices to now rise in value.

2017 is forecasted to grow by 3.4%.

Foreign relations are making improvements.
US Housing Sales Boom Will Last Until 2021
Redfin CEO Glenn Kelman told CNBC on Thursday that he sees the US housing sales boom will last until 2021. Total US Home sales increased 9.4% in September, surpassing estimates. Meanwhile, median prices went up 15% year over year. This is according to data provided by the National Association of Realtors.
RELATED: Biden Is Latest Dem to Support Ridiculous Free Housing Proposal
Shares of Redfin, a real estate brokerage firm, were higher by 1% Thursday to $45.60. The stock more than doubled during this year. It now has a market cap of $4.5 billion. 
Why do people buy houses during a recession? 
During this time when the economy is reeling and jobs are tight, people buy homes. Why? There are a couple of reasons.
The bigger acceptance for remote work freed many people from living in the city. The opportunity to leave cramped apartments and expensive city living. The pandemic gave enough reason for workers to pack up and head for greener pastures. Next, interest rates are going down hard. From 3.7%, 30-year mortgage rates are now 2.9%, the lowest rates ever. Despite higher prices, people know this is the best time to buy on the cheap. 
The intent is there. The pandemic allowed you to work anywhere. And interest rates allow you to pay the lowest interest rates. People are taking the plunge and buying. So what's the problem? We're running out of houses to buy. 
Demand coming from the rich 
Rich professionals who can work from home are the reason for the uptick in housing demand. Kelman said that many remote workers moved from major cities to distant suburbs. Kelman said these workers began "taking a permanent vacation where they're working from those homes."
People are taking advantage of low-interest rates to snap up homes. Kelman noted that "part of what is fueling this boom is that the economy has just split into two and rich people are able to access capital almost for free." The opportunity to buy homes for cheap may be too much to resist. "Of course, they're going to use that money to buy homes," he added.  
Meanwhile, there's another group of people who would like to buy but can't. Kleman said:  "There's just another group of Americans who are still struggling, who can't access the credit because we've raised credit standards, and you have high unemployment. I just think those two trends, at some point, have to collide." 
Kelman foresees demand to continue until 2021 at least. Many undecided buyers will buckle down next year and take the plunge. He said: "There's no way it can last forever. This level of demand is absolutely insane. I would expect it to last into 2021, at least." Why 2021? "There are so many people now who have decided they're not going to be able to buy a home by year-end," he said. Kelman expects them to buy next year, "as their kids shift school districts. I do think we're going to see this for some time."
Shrinking inventory of houses for sale
With homes fast disappearing from the market, higher purchase prices are coming back. Based on data from the National Association of Realtors data, only 2.7 months' supply of houses is available last month. This represents the lowest level since 1982 when the NAR began tracking data. 
Kleman expects supply to increase after the elections. Uncertainty will decrease after voters elect a new president. Listing and selling a home can take months to process. That's why sellers have a lower risk tolerance than buyers. "Buyers, when they see a house they love, they pounce," he said. "I think the sellers are just looking long term in the economy and still feeling some anxiety. Many of them are going to put their homes on the market in January and February."
Demand won't last forever  
The Wall Street Journal's Justin Lahart thinks not everybody can live outside the big cities. A remote job in a vacation spot may pose difficulties for some. Winter conditions may also make some remote workers rethink their strategy. He also believes that the housing boom now made people buy houses sooner than later. He thinks many of the workers who moved to the suburbs would've done so in a few years. When the pandemic subsides, a smaller group might follow the exodus out of big cities. 
The number of people who can afford houses will shrink as well. Many workers' careers derailed during the year. Many millennials got burned during the financial crisis in the early 2000s. Now, a new career-threatening crisis is in full swing. The post-coronavirus landscape may depend on how well the economy rebounds. We'll have next year to find out.
Watch this as CNBC reports on the US housing sales boom. Redfin CEO Says "people are buying vacation homes, then taking a permanent vacation:
Loading ...
Are you house hunting right now, or have you already bought a house this year? Why are you doing so? Let us know why buying a home is a good idea right now. Share your thoughts in the comments section below.
Biden Plan Could Mean 60% Tax Rates, But Here's Who Will Get Stuck With Higher Taxes
New York and California may start losing high-income residents by the droves next year if Democratic nominee Joe Biden wins the election in a few weeks.
That's because the two left-leaning states would have a combined federal and state rate over 60% under Biden tax plan.
Even New York resident and rapper 50 Cent tweeted earlier this week that despite his apparent dislike for President Trump, he said "Vote Trump" and "62% are you out of ya (expletive) mind," when he learned about Biden's tax plan.
According to calculations from Jared Walczak of the Tax Foundation, California residents earning more than $400,000 per year could face a combined tax rate as high as 62.6% under the Biden plan. New Jersey residents could see taxes reach 58.2% and New York would top out at just over 62%.
But somehow, it could get even worse.
Tax Rates Can Still Go Higher Under Biden
Walczak points out that if you include the contributions to the tax hikes by employers, which are often passed along to employees, the combined rates would jump to over 65% in California, 62.9% in New Jersey and 64.7% in New York City. They could still go even higher if California and New York raise taxes on high earners. This is something some legislators have proposed to try and close multibillion-dollar budget gaps.
"These rates would be the highest in about three and a half decades," said Walzcak, "and imposed on a broader tax base than was in place previously."
The Middle Class Will Suffer?
But Home Depot co-founder Ken Langone believes the wealthy won't pay higher taxes at all – the middle class will.
"The middle class will not be exempt. Tragically, it will punish them. It isn't going to punish us," said Langone.
Appearing on Fox Business yesterday, Langone said due to Biden's tax hikes, "the middle class will be in peril."
He said that despite Biden saying the wealthy should pay more in taxes, the middle class will feel the effects of Biden's tax plan. Langone said he is in favor of a tax code that is more progressive and equitable. This includes eliminating loopholes that favor the rich and large corporations.
"I don't know if there's any of us that have done well that will have a problem with paying more taxes, but it's a ruse to think that hitting us and us alone is going to get the job done," Langone said, adding ""It won't and the middle class will be in peril and when you take money out of the hands of the middle class, you do a dramatic impact negatively on the economy."
He said that increasing taxes on the middle class will lead to a recession.
"The problem is, when you go after the middle class, you begin to attack the backbone of the economy and we will have a bad recession. We will have a very bad recession," Langone said.
"These are very precarious times and not the time to be screwing around," he added.
Up Next:
September Startup Sentiment Index™ Shows Highest Intent Ever of Business Startups Planned 3 Months Out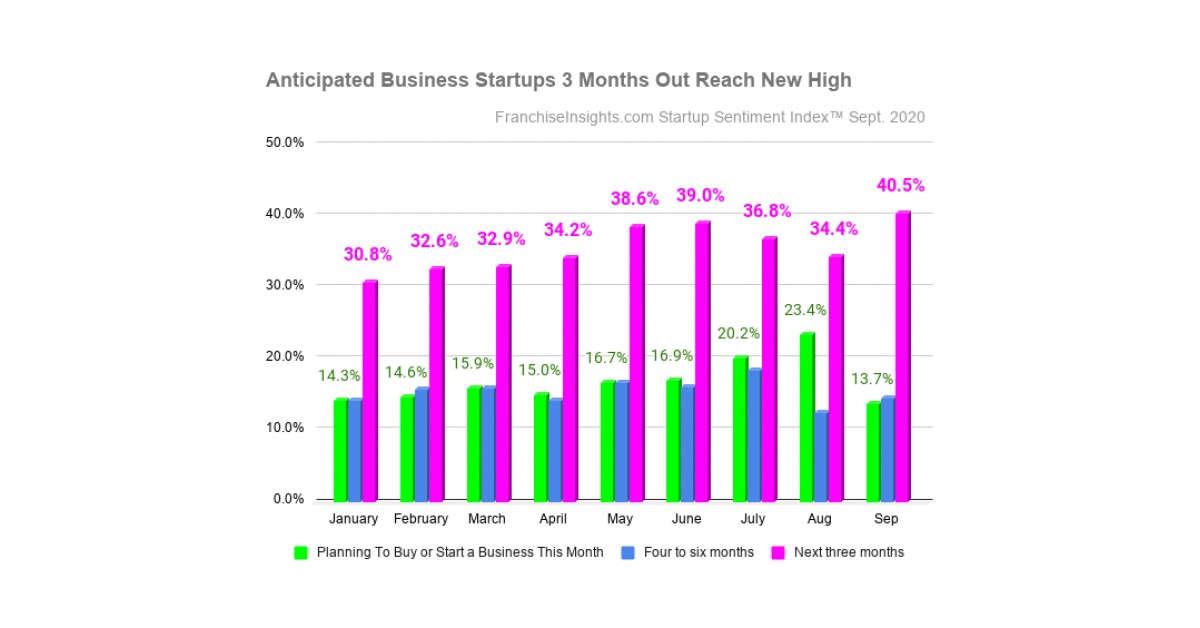 Press Release
–
updated: Oct 22, 2020
NORFOLK, Va., October 22, 2020 (Newswire.com) –
In a remarkable turnabout, future business owners planning to start "this month" dropped, while startups planned "3 months out" reached the highest level on record in responses collected Sept. 23-30, 2020, for the FranchiseInsights.com Small Business Startup Sentiment Index™ (SSI).
Additional highlights:
While "access to funding" remains the biggest concern, the economic climate and political changes have grown the most among the six biggest factors impacting startup sentiment
Concerns regarding a​ccess to funding, historically the most significant factor, have abated over the last seven months
Entrepreneurs are the most optimistic about "business conditions 3 months out" than they have been since April 2020.
While the pandemic has had a devastating impact on small businesses, almost 39% of the entrepreneurs indicated that Covid-19 actually increased their "interest in controlling their own destiny through business ownership" in September's survey.
"These are the most encouraging signs of animal spirits among aspiring business owners that we have seen in 2020," says Michael Alston, senior advisor to FranchiseInsights.com. "The data portend a coming boom in business formation in the aftermath of the pandemic."
Download a copy of the September SSI report here. See excerpts from prior SSI™ surveys and subscribe to receive the Small Business Startup Sentiment Index™ monthly when it is released.
In August we reported the encouraging development that over 36% of respondents indicated they were "more likely to start a business now than three months ago," and the percentage of respondents that were "less or much less likely to start a business than three months ago" decreased to 8%, the lowest reading in 2020. These notable improvements in buyer optimism might suggest that concerns about the pandemic have been recently overshadowed by concerns about the near-term economy and the upcoming election.
The Small Business Startup Sentiment Index™ is based on a monthly survey of individuals who have recently inquired about businesses or franchises for sale on the digital assets of
FranchiseVentures
.
About Franchise Insights
A unit of FranchiseVentures, Franchise Insights provides research and intelligence to help the franchise industry and investors understand and meet the needs of budding entrepreneurs who want to own their own businesses. With a vast and growing proprietary data set of U.S. franchise inquiries, we use the tools of data science to make inferences and discover best practices to foster the growth of small businesses.
FranchiseVentures is the leading demand generation platform for aspiring business buyers and franchisees to thousands of growing franchise systems in the United States and Canada. Its franchise lead generation brands include Franchise.com, FranchiseSolutions.com, FranchiseGator.com, FranchiseOpportunities.com, FranchiseForSale.com, SmallBusinessStartup.com and BusinessBroker.net, and together they provide the largest aggregation of prospective business and franchise buyers in the U.S.
Interested in more insights from our proprietary data set? Subscribe to our newsletter below, or follow us on LinkedIn.
​Media Contact:
Michael Alston
​Phone: 757.351.8808
Email: [email protected]
Source: Franchise Insights