The Capitalist Newsletter – May 4, 2017
PUERTO RICO PLACED UNDER $73B BANKRUPTCY PROTECTION; SETS UP WALL STREET SHOWDOWN
Puerto Rico is out of money. And not just out of money, but in serious debt, owing $73 billion to many Wall Street companies after years of investment in the territory by Wall Street. What happens when a territory defaults? It's not a country that can give away its assets — Puerto Rico is a U.S. territory and thus falls under U.S. law. And as the U.S. government is wont to do when big businesses are facing trouble, Congress is bailing out Puerto Rico with a special type of bankruptcy protection. Who is most affected by the news? What's next for Puerto Rico?
Read The Capitalist's Take Here
---
T-MOBILE UNVEILS PLAN FOR FIRST NATIONWIDE 5G NETWORK READY BY 2020
T-Mobile on Tuesday laid out its plan to offer the first nationwide mobile 5G coverage by 2019.
The Bellevue, Wash.-based wireless carrier said it will utilize the low-band wireless spectrum licenses it just paid $8 billion for to offer the next-generation network, which will roll out in 2019 and expand nationwide by 2020. 5G promises to be at least 10 times faster than the existing 4G networks. Though we are…
---
FACEBOOK HIRING 3,000 MODERATORS TO HELP COMBAT VIOLENT VIDEOS
Facebook is planning to hire thousands of people to help review user content following multiple high-profile incidents of people sharing videos of suicide and murder.
Mark Zuckerberg, Facebook's CEO and cofounder, said Wednesday the company will add 3,000 people to its global community operations team to help "review the millions of reports we get every week." That is in addition to the 4,500 people already on the team.
Read More at Financial Times Here
---
Closing Bell
– Wednesday, May 3rd
Markets Tick DOWN as Fed Stands Pat
Big Insider Trades
– FedEx Corp. (FDX) CEO Fred Smith Sells $25.5m
– Jamba, Inc. (JMBA) Director Glenn Welling Buys $700k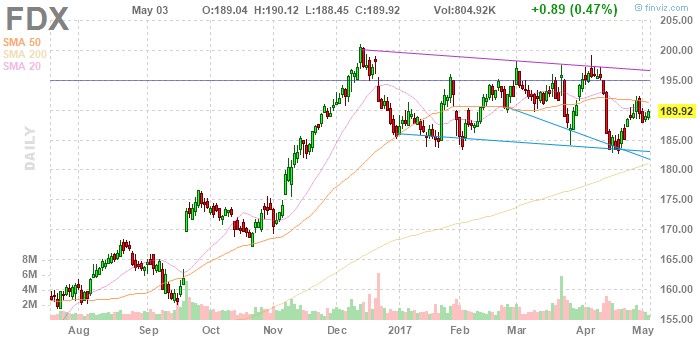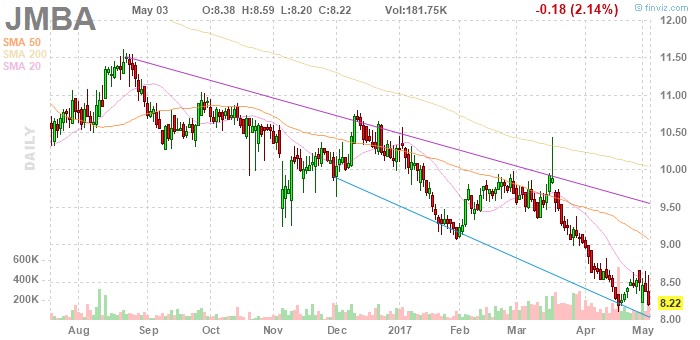 Winners & Losers
– Pieris Pharmaceuticals, Inc. (PIRS) Rockets UP (52.92%) on News that the Company Struck a $57.5m Deal to Develop Drugs for Respiratory Diseases
– Twilio (TWLO) Topples DOWN (26.31%) as Major Client Uber Pulls its Business
Most Talked About
Pieris Pharmaceuticals, Inc. (PIRS) Considered a Majority Strong Buy After News that AstraZeneca Funds the Company's Research into Developing Drugs for Respiratory Diseases
The TIP Sheets
– Wednesday, May 3rd
– Groupon, Inc. (GRPN) Slides DOWN (13.25%) After Reporting Significantly Worse Earnings than Expected. The Company's Revenue and Gross Billings are Down. Expect Shares to Continue DOWN
Unusual Volume
Sprint Corp (S) Slips DOWN (14.33%) on 54m Shares Traded After Reporting Wider Quarterly Loss than Investors Expected. However, Sprint Also Showed Huge Subscriber Growth and is Marketing a New "Magic Box" to Boost Cell Speeds. Expect Shares to Bounce Back UP