The Capitalist Newsletter – May 5, 2017
FED HOLDS OFF ON RATE HIKE, UNANIMOUSLY VOICES CONFIDENCE; SEE HOW TO TRADE THE MARKET'S RESPONSE WITH GUY COHEN
The Fed is relaxed about the latest softening of growth figures, but one thing you'll learn as you study with Guy Cohen is that he doesn't much care for the news! What he REALLY cares about is what real money at real risk is doing.
This has several major advantages:
1. It's proven statistically to work and outperform the markets.
2. It cuts out all the drama.
3. It saves massive amounts of time.
When you follow the money like Guy does, you'll recognize there are times where the market is acting with clarity and times when it's not. As you spend more time with him, you'll start to appreciate what those times are and act accordingly. Right now is one of those uncertain times, but things can change very quickly, which means you need to be on the ball and predator-like in your approach to the markets.
In today's video, Guy outlines a few stocks and how they're behaving during this earnings period. Plus why the market is in a stalling mode right now. And you'll really want to see BCR's behaviour before its earnings and buyout announcement!
Read The Capitalist's Take Here
---
GOP FINALLY SECURES ENOUGH VOTES TO PUSH HEALTHCARE REFORM THROUGH HOUSE
House Republicans on Thursday passed legislation aimed at repealing and replacing ObamaCare, taking a major step toward a long-held goal and setting in motion an overhaul of the nation's health system. The narrow 217-213 vote is a victory for GOP leaders, who faced a tumultuous path to getting the bill to the floor. The measure had to be pulled in March because of a lack of votes, but a series of deals since then brought on board the conservative Freedom Caucus and then wavering moderates.
---
APPLE TO CREATE $1 BILLION U.S. ADVANCED MANUFACTURING FUND
Apple Inc (AAPL.O) plans to create a $1 billion fund to invest in U.S. companies that perform advanced manufacturing, Chief Executive Officer Tim Cook said on Wednesday, the iPhone maker's latest effort to show how it is creating U.S. jobs.
The Cupertino, California company will announce the fund's first investment later in May, Cook said during an interview on CNBC. Cook also said Apple plans to fund programs that could include teaching people how to write computer code to create apps, and will release more details about the effort this summer. The announcements were the latest in a series of disclosures to highlight how Apple, the world's largest company by market valuation, contributes to job creation in the United States.
---
Closing Bell
– Thursday, May 4th
Markets Close Flat as Oil Tumbles
Big Insider Trades
– Humana, Inc. (HUM) CEO Bruce Broussard Sells $26.7m
– Agree Realty Corp. (ADC) Executive Chairman Richard Agree Buys $1.1m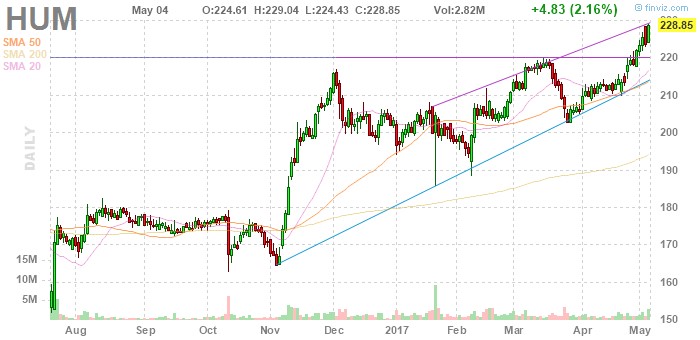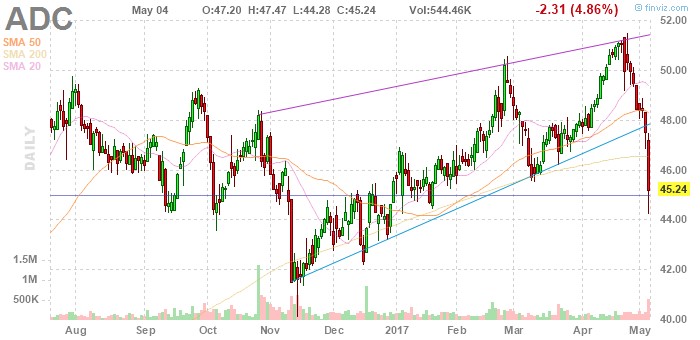 Winners & Losers
– AmpliPhi Biosciences Corp. (APHB) Shoots UP (62.92%) After Declaring New Planned Emphasis on Precisely Targeted and Personalized Medicines Focused on Antibiotic-Resistant Bacteria
– Tuesday Morning Corp. (TUES) Dives DOWN (30.16%) on Weak Earnings Results
Most Talked About
Conatus Pharmaceuticals, Inc. (CNAT) Considered a Near Unanimous Strong Buy After Novartis AG Decides to Exercise its Option for Exclusive Rights to CNAT's NASH Drug
The TIP Sheets
– Thursday, May 4th
– Fitbit (FIT) Rises UP (12.15%) After the Company Announced First Quarter Earnings. Losses Were Less than Investors Expected, However Weak Demand for its Products Remains, with a Glut of Leftover Products from Holiday Season. Expect Shares to Fall Back DOWN
Unusual Volume
Spirit Realty Capital, Inc. (SRC) Tumbles DOWN (24.78%) on 84m Shares Traded After the Company Lowers Guidance Following Weak Q1 Earnings Results. The Company Experienced an "Abnormally High Credit Loss" and is Experiencing Problems with Tenants. Expect Shares to Continue DOWN