The Capitalist Newsletter – May 3, 2017
ELON MUSK SETS NEW MILESTONE AS SPACEX LAUNCHES FIRST SPY SATELLITE
Just last year Elon Musk was coming under fire from all directions as SpaceX, Tesla, and Solarcity were struggling to show profitability. Fast forward just a few months and Elon Musk seems on top of the world. In April, Tesla passed General Motors to become the most valuable U.S. based automaker. Tesla and Solarcity have merged and are expanding into new products and partnerships with Panasonic to build solar cells. And SpaceX seems to be on everyone's lips with successful launch after successful launch. But SpaceX's latest launch was a special one
Read The Capitalist's Take Here
---
SAMSUNG SELF-DRIVING CARS TAKE FIGHT TO APPLE, UBER, AND GOOGLE
Samsung is stepping up its plans for self-driving cars to rival former Google project Waymo, Uber and Apple, bringing the key players from the battle for smartphone dominance to the brave new world of autonomous vehicles.
The South Korean electronics manufacturer, which is the world's largest smartphone maker and a chip giant in its own right, has been given permission to test its self-driving cars on public roads by the South Korean ministry of land, infrastructure and transport.
The decision puts Samsung in direct competition with US technology firms, including Uber, Waymo and Apple.
Read More at The Guardian Here
Read More at Ars Technica Here
---
HAMAS SOFTENS STANCE ON ISRAEL; ACCEPTS PALESTINIAN STATE WITH 1967 BORDERS
Hamas has presented a new political document that accepts the formation of a Palestinian state along the 1967 borders, without recognising the statehood of Israel, and says that the conflict in Palestine is not a religious one.
The positions were made official on Monday in Qatar's capital, Doha, by Khaled Meshaal, the leader-in-exile of the Palestinian group that runs the besieged Gaza Strip.
---
Closing Bell
– Tuesday, May 2nd
Markets Tick UP as Investors Await Big Name Earnings
Big Insider Trades
– Netflix, Inc. (NFLX) Chief Product Officer Neil Hunt Sells $1.5m
– Synchrony Financial (SYF) Director Will Graylin Buys $500k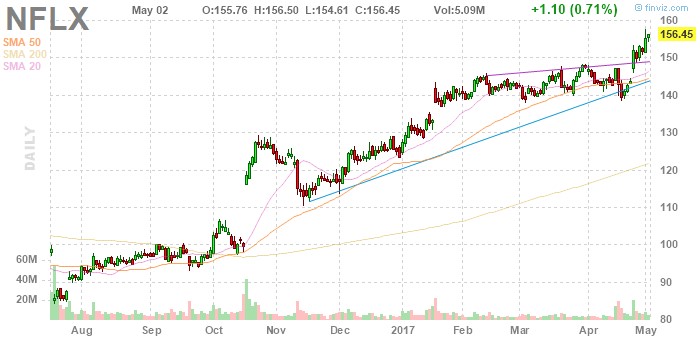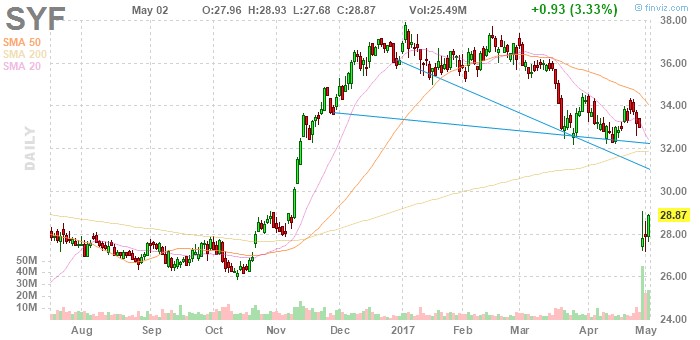 Winners & Losers
– Angie's List, Inc. (ANGI) Rockets UP (61.46%) on News the Company Will be Acquired by HomeAdvisor Parent Company
– Celadon Group, Inc. (CGI) Plummets DOWN (55.00%) After Small, Fee-Based Auditor Withdraws From Auditing the Scrutinized Company
Most Talked About
Command Security Corporation (MOC) Considered a Majority Strong Buy After Announcing $80m Contract Win
The TIP Sheets
– Tuesday, May 2nd
– Angie's List, Inc. (ANGI) Soars UP (61.46%) After the Company Accepts IAC's Takeover Bid. The Pricetag is North of $500m. Expect Shares to Continue UP
Unusual Volume
Twitter, Inc. (TWTR) Ticks UP (3.99%) on 64m Shares Traded After Billionaire Mark Cuban Invests on Longterm AI Play. But Until Twitter Produces Revenue, Expect Shares to Slip Back DOWN