AMD and Industry Partners to Develop New Blockchain-based Gaming Platforms
SANTA CLARA, Calif., Dec. 13, 2019 (GLOBE NEWSWIRE) — AMD (NASDAQ: AMD) today announced that it has joined the Blockchain Game Alliance (BGA) and forged partnerships with leading technology providers to help promote the development and proliferation of new blockchain-powered gaming platforms.
The Blockchain Game Alliance is committed to driving awareness and adoption of blockchain technologies within the game industry, providing an open forum for individuals and companies to share knowledge and collaborate, create common standards, establish best practices, and network. As the first major hardware manufacturer to join the BGA, AMD plans to enable alliance members with efficient and high-performance computing technologies for next-generation blockchain-based gaming platforms that could potentially transform the way games are created, published, purchased and played.
AMD also announced partnerships with leading blockchain technology providers, Robot Cache, which launched their online gaming marketplace in June, and ULTRA, which plans to launch its online gaming marketplace in the coming months. Designed to provide optimal cryptographic compute performance with AMD Ryzen™ processors and AMD Radeon™ graphics cards, these marketplaces will provide gamers with new opportunities to buy, sell and share digital video games, as well as offer efficient, new distribution channels for publishers. In addition, Robot Cache will use secure, high-performance AMD EPYC™ processors in the back-end servers powering its platform, and ULTRA will use AMD EPYC™ processors for its blockchain to facilitate block producing.
"Blockchain technology brings broader choice, security and flexibility to both gamers and publishers," said Joerg Roskowetz, Head of Blockchain Technology, AMD. "Next-generation blockchain game platforms will give gamers access to exclusive online content, and provide new ways for them to truly own it. They will also provide game publishers with new channels to distribute digital game content."
"The Blockchain Game Alliance is gathering some of the world's top blockchain innovators and content developers to bring players the best of what this technology has to offer," said Nicolas Pouard, Blockchain Initiative Director at Ubisoft. "We're delighted to work with AMD, and other alliance members to determine the role of blockchain in the entertainment experiences of the future."
Leading the Blockchain Gaming Charge
Providing incredible compute performance and security for peer-to-peer transactions, AMD is helping to enable the next generation of blockchain-based gaming platforms via:
Blockchain Innovation – AMD is at the forefront of the blockchain evolution, providing the underlying compute technology to enable a broad range of new blockchain-powered applications, services and use cases spanning industries ranging from gaming and cloud computing to the Internet of Things, healthcare, and others.
Efficient, High-performance CPUs and GPUs – AMD is in a unique position to offer the best combination of high-performance CPUs and GPUs for demanding blockchain workloads.
Robust Security – Designed to address today's increasingly complex and sophisticated security threats, AMD Secure Technology puts protection right on the processor providing an additional layer of robust security.
Supporting Resources
About AMD
For 50 years AMD has driven innovation in high-performance computing, graphics and visualization technologies ― the building blocks for gaming, immersive platforms and the datacenter. Hundreds of millions of consumers, leading Fortune 500 businesses and cutting-edge scientific research facilities around the world rely on AMD technology daily to improve how they live, work and play. AMD employees around the world are focused on building great products that push the boundaries of what is possible. For more information about how AMD is enabling today and inspiring tomorrow, visit the AMD (NASDAQ: AMD) website, blog, Facebook and Twitter pages.
Cautionary Statement
This press release contains forward-looking statements concerning Advanced Micro Devices, Inc. (AMD) including the plans and expected benefits of joining the Blockchain Game Alliance and partnering with blockchain technology providers, which are made pursuant to the Safe Harbor provisions of the Private Securities Litigation Reform Act of 1995. Forward-looking statements are commonly identified by words such as "would," "intends," "believes," "expects," "may," "will," "should," "seeks," "intends," "plans," "pro forma," "estimates," "anticipates," or the negative of these words and phrases, other variations of these words and phrases or comparable terminology. Investors are cautioned that the forward-looking statements in this document are based on current beliefs, assumptions and expectations, speak only as of the date of this document and involve risks and uncertainties that could cause actual results to differ materially from current expectations. Such statements are subject to certain known and unknown risks and uncertainties, many of which are difficult to predict and generally beyond AMD's control, that could cause actual results and other future events to differ materially from those expressed in, or implied or projected by, the forward-looking information and statements. Material factors that could cause actual results to differ materially from current expectations include, without limitation, the following: Intel Corporation's dominance of the microprocessor market and its aggressive business practices may limit AMD's ability to compete effectively; AMD relies on third parties to manufacture its products, and if they are unable to do so on a timely basis in sufficient quantities and using competitive technologies, AMD's business could be materially adversely affected; failure to achieve expected manufacturing yields for AMD's products could negatively impact its financial results; AMD has a wafer supply agreement with GLOBALFOUNDRIES Inc. (GF) with obligations to purchase all of its microprocessor and APU product requirements, and a certain portion of its GPU product requirements, manufactured at process nodes larger than 7 nanometer from GF with limited exceptions. If GF is not able to satisfy AMD's manufacturing requirements, AMD's business could be adversely impacted; the success of AMD's business is dependent upon its ability to introduce products on a timely basis with features and performance levels that provide value to its customers while supporting and coinciding with significant industry transitions; if AMD cannot generate sufficient revenue and operating cash flow or obtain external financing, it may face a cash shortfall and be unable to make all of its planned investments in research and development or other strategic investments; the loss of a significant customer may have a material adverse effect on AMD; AMD's receipt of revenue from its semi-custom SoC products is dependent upon its technology being designed into third-party products and the success of those products; global economic and market uncertainty may adversely impact AMD's business and operating results; AMD's worldwide operations are subject to political, legal and economic risks and natural disasters, which could have a material adverse effect on it; government actions and regulations such as export administration regulations, tariffs, and trade protection measures, may limit AMD's ability to export AMD's products to certain customers; AMD's products may be subject to security vulnerabilities that could have a material adverse effect on AMD; IT outages, data loss, data breaches and cyber-attacks could compromise AMD's intellectual property or other sensitive information, be costly to remediate and cause significant damage to its business, reputation and operations; AMD's operating results are subject to quarterly and seasonal sales patterns; AMD may not be able to generate sufficient cash to service its debt obligations or meet its working capital requirements; AMD has a large amount of indebtedness which could adversely affect its financial position and prevent it from implementing its strategy or fulfilling its contractual obligations; the agreements governing AMD's notes and the Secured Revolving Line of Credit impose restrictions on AMD that may adversely affect AMD's ability to operate its business; the markets in which AMD's products are sold are highly competitive; the conversion of the 2.125% Convertible Senior Notes due 2026 may dilute the ownership interest of AMD's existing stockholders, or may otherwise depress the price of its common stock; uncertainties involving the ordering and shipment of AMD's products could materially adversely affect it; the demand for AMD's products depends in part on the market conditions in the industries into which they are sold. Fluctuations in demand for AMD's products or a market decline in any of these industries could have a material adverse effect on its results of operations; AMD's ability to design and introduce new products in a timely manner is dependent upon third-party intellectual property; AMD depends on third-party companies for the design, manufacture and supply of motherboards, software and other computer platform components to support its business; if AMD loses Microsoft Corporation's support for its products or other software vendors do not design and develop software to run on AMD's products, its ability to sell its products could be materially adversely affected; and AMD's reliance on third-party distributors and add-in-board partners subjects it to certain risks. Investors are urged to review in detail the risks and uncertainties in AMD's Securities and Exchange Commission filings, including but not limited to AMD's Quarterly Report on Form 10-Q for the quarter ended September 28, 2019.
©2019 Advanced Micro Devices, Inc. All rights reserved. AMD, the AMD Arrow logo, Radeon, and combinations thereof are trademarks of Advanced Micro Devices, Inc. Other product names used in this publication are for identification purposes only and may be trademarks of their respective companies.
Contacts:
George Millington
AMD Communications
+1 408-547-7481
[email protected]
Jason Schmidt
AMD Investor Relations
+1 408-749-6688
[email protected]
US Housing Sales Boom Will Last Until 2021
Redfin CEO Glenn Kelman told CNBC on Thursday that he sees the US housing sales boom will last until 2021. Total US Home sales increased 9.4% in September, surpassing estimates. Meanwhile, median prices went up 15% year over year. This is according to data provided by the National Association of Realtors.
RELATED: Biden Is Latest Dem to Support Ridiculous Free Housing Proposal
Shares of Redfin, a real estate brokerage firm, were higher by 1% Thursday to $45.60. The stock more than doubled during this year. It now has a market cap of $4.5 billion. 
Why do people buy houses during a recession? 
During this time when the economy is reeling and jobs are tight, people buy homes. Why? There are a couple of reasons.
The bigger acceptance for remote work freed many people from living in the city. The opportunity to leave cramped apartments and expensive city living. The pandemic gave enough reason for workers to pack up and head for greener pastures. Next, interest rates are going down hard. From 3.7%, 30-year mortgage rates are now 2.9%, the lowest rates ever. Despite higher prices, people know this is the best time to buy on the cheap. 
The intent is there. The pandemic allowed you to work anywhere. And interest rates allow you to pay the lowest interest rates. People are taking the plunge and buying. So what's the problem? We're running out of houses to buy. 
Demand coming from the rich 
Rich professionals who can work from home are the reason for the uptick in housing demand. Kelman said that many remote workers moved from major cities to distant suburbs. Kelman said these workers began "taking a permanent vacation where they're working from those homes."
People are taking advantage of low-interest rates to snap up homes. Kelman noted that "part of what is fueling this boom is that the economy has just split into two and rich people are able to access capital almost for free." The opportunity to buy homes for cheap may be too much to resist. "Of course, they're going to use that money to buy homes," he added.  
Meanwhile, there's another group of people who would like to buy but can't. Kleman said:  "There's just another group of Americans who are still struggling, who can't access the credit because we've raised credit standards, and you have high unemployment. I just think those two trends, at some point, have to collide." 
Kelman foresees demand to continue until 2021 at least. Many undecided buyers will buckle down next year and take the plunge. He said: "There's no way it can last forever. This level of demand is absolutely insane. I would expect it to last into 2021, at least." Why 2021? "There are so many people now who have decided they're not going to be able to buy a home by year-end," he said. Kelman expects them to buy next year, "as their kids shift school districts. I do think we're going to see this for some time."
Shrinking inventory of houses for sale
With homes fast disappearing from the market, higher purchase prices are coming back. Based on data from the National Association of Realtors data, only 2.7 months' supply of houses is available last month. This represents the lowest level since 1982 when the NAR began tracking data. 
Kleman expects supply to increase after the elections. Uncertainty will decrease after voters elect a new president. Listing and selling a home can take months to process. That's why sellers have a lower risk tolerance than buyers. "Buyers, when they see a house they love, they pounce," he said. "I think the sellers are just looking long term in the economy and still feeling some anxiety. Many of them are going to put their homes on the market in January and February."
Demand won't last forever  
The Wall Street Journal's Justin Lahart thinks not everybody can live outside the big cities. A remote job in a vacation spot may pose difficulties for some. Winter conditions may also make some remote workers rethink their strategy. He also believes that the housing boom now made people buy houses sooner than later. He thinks many of the workers who moved to the suburbs would've done so in a few years. When the pandemic subsides, a smaller group might follow the exodus out of big cities. 
The number of people who can afford houses will shrink as well. Many workers' careers derailed during the year. Many millennials got burned during the financial crisis in the early 2000s. Now, a new career-threatening crisis is in full swing. The post-coronavirus landscape may depend on how well the economy rebounds. We'll have next year to find out.
Watch this as CNBC reports on the US housing sales boom. Redfin CEO Says "people are buying vacation homes, then taking a permanent vacation:
Loading ...
Are you house hunting right now, or have you already bought a house this year? Why are you doing so? Let us know why buying a home is a good idea right now. Share your thoughts in the comments section below.
Biden Plan Could Mean 60% Tax Rates, But Here's Who Will Get Stuck With Higher Taxes
New York and California may start losing high-income residents by the droves next year if Democratic nominee Joe Biden wins the election in a few weeks.
That's because the two left-leaning states would have a combined federal and state rate over 60% under Biden tax plan.
Even New York resident and rapper 50 Cent tweeted earlier this week that despite his apparent dislike for President Trump, he said "Vote Trump" and "62% are you out of ya (expletive) mind," when he learned about Biden's tax plan.
According to calculations from Jared Walczak of the Tax Foundation, California residents earning more than $400,000 per year could face a combined tax rate as high as 62.6% under the Biden plan. New Jersey residents could see taxes reach 58.2% and New York would top out at just over 62%.
But somehow, it could get even worse.
Tax Rates Can Still Go Higher Under Biden
Walczak points out that if you include the contributions to the tax hikes by employers, which are often passed along to employees, the combined rates would jump to over 65% in California, 62.9% in New Jersey and 64.7% in New York City. They could still go even higher if California and New York raise taxes on high earners. This is something some legislators have proposed to try and close multibillion-dollar budget gaps.
"These rates would be the highest in about three and a half decades," said Walzcak, "and imposed on a broader tax base than was in place previously."
The Middle Class Will Suffer?
But Home Depot co-founder Ken Langone believes the wealthy won't pay higher taxes at all – the middle class will.
"The middle class will not be exempt. Tragically, it will punish them. It isn't going to punish us," said Langone.
Appearing on Fox Business yesterday, Langone said due to Biden's tax hikes, "the middle class will be in peril."
He said that despite Biden saying the wealthy should pay more in taxes, the middle class will feel the effects of Biden's tax plan. Langone said he is in favor of a tax code that is more progressive and equitable. This includes eliminating loopholes that favor the rich and large corporations.
"I don't know if there's any of us that have done well that will have a problem with paying more taxes, but it's a ruse to think that hitting us and us alone is going to get the job done," Langone said, adding ""It won't and the middle class will be in peril and when you take money out of the hands of the middle class, you do a dramatic impact negatively on the economy."
He said that increasing taxes on the middle class will lead to a recession.
"The problem is, when you go after the middle class, you begin to attack the backbone of the economy and we will have a bad recession. We will have a very bad recession," Langone said.
"These are very precarious times and not the time to be screwing around," he added.
Up Next:
September Startup Sentiment Index™ Shows Highest Intent Ever of Business Startups Planned 3 Months Out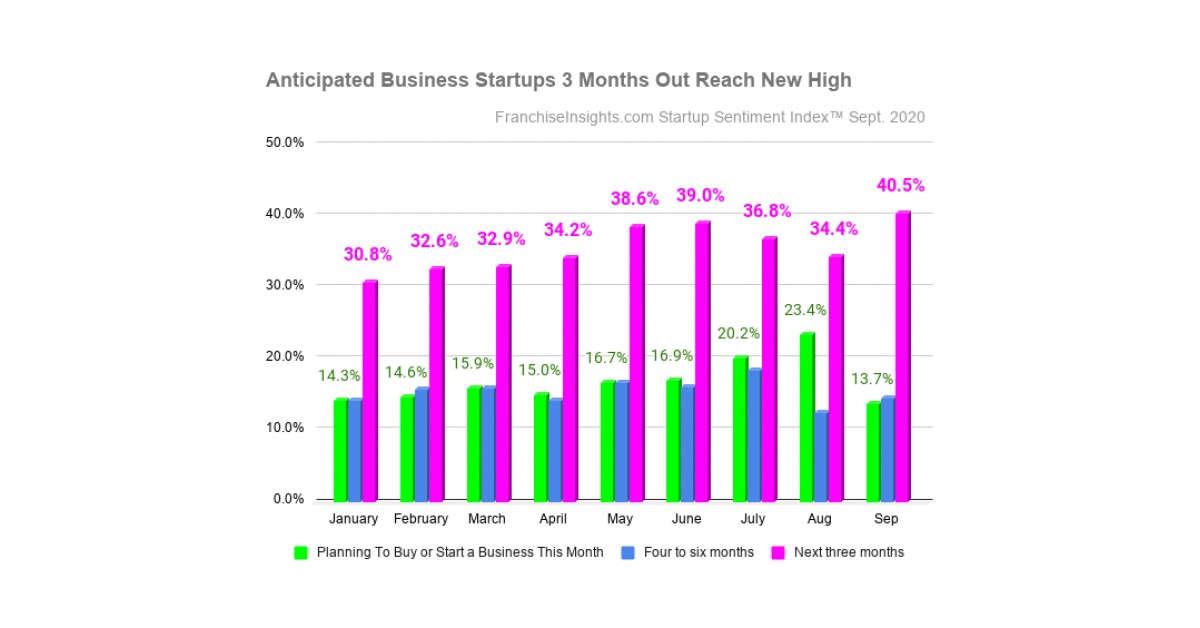 Press Release
–
updated: Oct 22, 2020
NORFOLK, Va., October 22, 2020 (Newswire.com) –
In a remarkable turnabout, future business owners planning to start "this month" dropped, while startups planned "3 months out" reached the highest level on record in responses collected Sept. 23-30, 2020, for the FranchiseInsights.com Small Business Startup Sentiment Index™ (SSI).
Additional highlights:
While "access to funding" remains the biggest concern, the economic climate and political changes have grown the most among the six biggest factors impacting startup sentiment
Concerns regarding a​ccess to funding, historically the most significant factor, have abated over the last seven months
Entrepreneurs are the most optimistic about "business conditions 3 months out" than they have been since April 2020.
While the pandemic has had a devastating impact on small businesses, almost 39% of the entrepreneurs indicated that Covid-19 actually increased their "interest in controlling their own destiny through business ownership" in September's survey.
"These are the most encouraging signs of animal spirits among aspiring business owners that we have seen in 2020," says Michael Alston, senior advisor to FranchiseInsights.com. "The data portend a coming boom in business formation in the aftermath of the pandemic."
Download a copy of the September SSI report here. See excerpts from prior SSI™ surveys and subscribe to receive the Small Business Startup Sentiment Index™ monthly when it is released.
In August we reported the encouraging development that over 36% of respondents indicated they were "more likely to start a business now than three months ago," and the percentage of respondents that were "less or much less likely to start a business than three months ago" decreased to 8%, the lowest reading in 2020. These notable improvements in buyer optimism might suggest that concerns about the pandemic have been recently overshadowed by concerns about the near-term economy and the upcoming election.
The Small Business Startup Sentiment Index™ is based on a monthly survey of individuals who have recently inquired about businesses or franchises for sale on the digital assets of
FranchiseVentures
.
About Franchise Insights
A unit of FranchiseVentures, Franchise Insights provides research and intelligence to help the franchise industry and investors understand and meet the needs of budding entrepreneurs who want to own their own businesses. With a vast and growing proprietary data set of U.S. franchise inquiries, we use the tools of data science to make inferences and discover best practices to foster the growth of small businesses.
FranchiseVentures is the leading demand generation platform for aspiring business buyers and franchisees to thousands of growing franchise systems in the United States and Canada. Its franchise lead generation brands include Franchise.com, FranchiseSolutions.com, FranchiseGator.com, FranchiseOpportunities.com, FranchiseForSale.com, SmallBusinessStartup.com and BusinessBroker.net, and together they provide the largest aggregation of prospective business and franchise buyers in the U.S.
Interested in more insights from our proprietary data set? Subscribe to our newsletter below, or follow us on LinkedIn.
​Media Contact:
Michael Alston
​Phone: 757.351.8808
Email: [email protected]
Source: Franchise Insights