The Capitalist Newsletter – April 25, 2017
TRUMP ANNOUNCES GOAL TO CUT CORPORATE RATE TO 15% IN TAX PLAN
President Trump plans to unveil his new tax plan on Wednesday. Sources tell CNN he may propose slashing the top corporate rate from 35% to 15% — as he proposed during the campaign. Such a dramatic change would likely set up a clash with Republican leaders on Capitol Hill. Here's why: Republican leaders are eager to cut corporate taxes, but for various reasons they don't want to add to the country's debt. And a 15% corporate rate could drive up deficits by a lot. For example, the Tax Policy Center estimated in November that Trump's 15% proposal, coupled with a repeal of the corporate Alternative Minimum Tax, could reduce revenue by nearly $2.4 trillion in the first decade.
---
AMAZON FORMS TEAM TO LEVERAGE DRIVERLESS-CAR TECHNOLOGY; COMPETE WITH FEDEX
Amazon.com Inc. has created a team focused on driverless-vehicle technology to help navigate the retail giant's role in the shake-up of transportation, according to people briefed on the matter. Amazon AMZN, +0.02% quietly formed the team, which has comprised about a dozen employees, more than a year ago as part of its broader ambition to transport more of its goods itself. For now, Amazon doesn't intend to build a fleet of vehicles, according to these people. Instead, the team serves as an in-house think tank to figure out how to leverage autonomous vehicles.
Read More at Fox Business Here
---
TESLA TO DOUBLE NUMBER OF SUPERCHARGING STATIONS IN ANTICIPATION OF MODEL 3 RELEASE
Tesla will double the number of charging locations available to owners of its 200,000 electric vehicles by the end of the year, the company announced in a blog post Monday. Since 2012, Tesla has built 5,400 Supercharger stations (expansive plazas that look like gas stations) and populated 9,000 hotels, restaurants and malls with wall-mounted Destination Charging connectors. By 2018, those numbers should hit 10,000 and 15,000 respectively. Although Tesla has Supercharger stations in 31 countries, U.S. owners stand to benefit most from the new charging stations.
---
Closing Bell
– Monday, April 24th
Markets Rocket UP After French Vote
Big Insider Trades
– Torchmark Corp. (TMK) Executive VP Ben Lutek Sells $2m
– Agios Pharmaceuticals, Inc. (AGIO) Stakeholder Celgene European Investment Co Buys $31m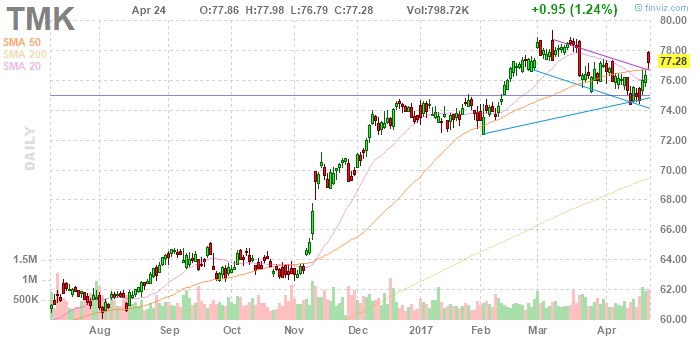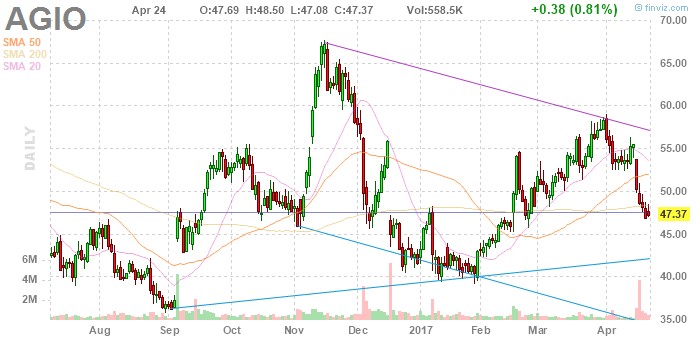 Winners & Losers
– PhaseRx (PZRX) Soars UP (54.03%) on Orphan Drug Designation
– Immune Pharmaceuticals, Inc. (IMNP) Tumbles DOWN (20.96%) After Announcing Corporate Restructuring
Most Talked About
Raytheon Company (RTN) a Unanimous Strong Buy as Tensions Tensions Heat Up Between U.S. and North Korea
The TIP Sheets
– Monday, April 24th
– Reed's, Inc. (REED) Slips DOWN (21.05%) After Announcing $3.4 Million Financing Transaction, but Also Announces Interim CEO. Expect Shares to Bounce Back UP
Unusual Volume
Ocean Power Technologies, Inc. (OPTT) Surges UP (49.73%) on 17m Shares Traded After Company Launches its PB3 PowerBuoy off Coast of Japan. The Deployment is Meant to Use Ocean Waves to Harness Energy. Expect Shares to Continue UP