The Capitalist Newsletter – April 27, 2017
U.S. STEEL CORP LOSES $180 MILLION; SEES BIGGEST DROP IN ALMOST 30 YEARS
United States Steel Corp. has always been a volatile stock. Since the company went public 26 years ago, the stock has been as low as $6.67 in January of 2016, and as high as $191.96 in June of 2008. But since Donald Trump took office as president, the stock has surged to a more than two year high under Trump's promises of looking after U.S. manufacturing and trade, and increased infrastructure spending. Yet, Tuesday's earnings report, which showed a loss of $180 million in 2017's first quarter, sent shares plunging to the company's all time biggest single-day drop. The surprising thing? The loss was only about ⅓ the loss it suffered a year ago. So why the sudden panic?
Read The Capitalist's Take Here
---
TRUMP ANNOUNCES "BIGGEST TAX CUT EVER"; LOWER RATES FOR INDIVIDUALS AND BUSINESSES
So far, President Trump wants to slash individual tax rates — cutting the top rate from 39.6% to 35% — and reduce the number of total rates from seven to three. He also wants to cut the top tax rate for all businesses to 15%, far below the current top rates. The administration's tax outline still leaves many questions unanswered and will be met with a lot of skepticism among lawmakers, even though Republicans control Congress. In fact, some GOP aides suggest that the White House — with its emphasis on tax cuts and too few details on how they'd be paid for — is not constructively contributing to a serious discussion of tax reform.
---
INSTAGRAM HITS 700 MILLION USERS AT ITS FASTEST EVER GROWTH RATE
Instagram has doubled its user base to 700 million monthly actives in two years, fueled by Stories, web signup, and better onboarding on low-end Android phones. Instagram's growth rate is actually speeding up. It took just four month to add the last 100 million users since hitting 600 million in December, while it took 6 months to go from 500 million to 600 million.
Here's a breakdown of how long it took Instagram to add each 100 million users…
---
Closing Bell
– Wednesday, April 26th
Markets Give Back Gains, Close Flat Following Release of Tax Plan
Big Insider Trades
– Masimo Corp. (MASI) CEO Joe Kiani Sells $4m
– Mattel, Inc. (MAT) Director Dean Scarborough Buys $1m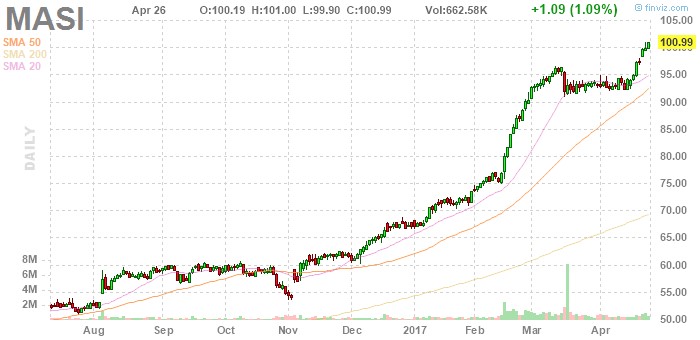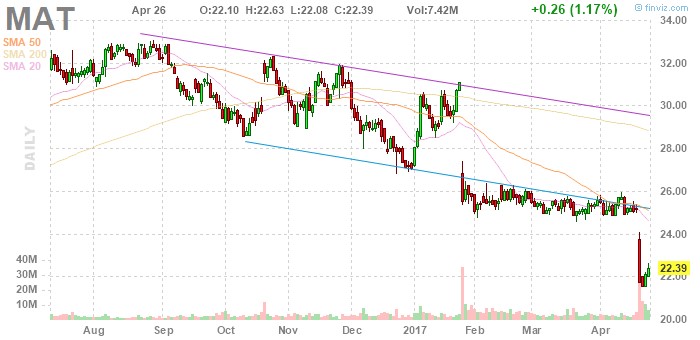 Winners & Losers
– AKEBIA THERAPEUTICS, Inc. (AKBA) Soars UP (33.40%) on Expanded Deal with Otsuka, Analyst Upgrades
– United States Steel Corp. (X) Plunges DOWN (26.78%) After Surprising Loss for First Quarter and Company Admitting it is Way Behind the Competition
Most Talked About
Netflix, Inc. (NFLX) Considered a Majority Strong Buy After Striking Deal with Baidu Streaming to Get Access to Chinese Market
The TIP Sheets
– Wednesday, April 26th
– Netflix, Inc. (NFLX) Ticks DOWN (1.31%). The Company has Finally Found a Way into China Through a Licensing Deal with Baidu's Streaming Service IQIYI Six Months After Admitting Defeat. Expect Shares to Bounce Back UP
Unusual Volume
United States Steel Corp. (X) Tumbles Down on 101m Shares Traded After Dismal Q1 Earnings. The Company Also Admitted it is Years Behind the Competition, and Won't be Profitable Again til it Catches up. Expect Shares to Continue DOWN