The Capitalist Newsletter – December 28, 2016
U.S. DOLLAR SURGES; BUT COMES WITH A CATCH
The U.S. dollar has reached a 14-year high following Donald Trump's election win combined with the Federal Reserve raising interest rates for the second time in a decade. And while a strong dollar shows optimism for the U.S. economy, there is also a downside to the dollar's strength. Surprisingly, Mr. Trump's promises to strengthen the dollar and U.S. manufacturing may be at odds with each other. How can a strong dollar hurt the country's manufacturing?
Read The Capitalist's Take Here
Read More at Wall Street Journal
---
PANASONIC TO INVEST OVER $256 MILLION IN TESLA'S BUFFALO PLANT FOR SOLAR CELLS
Panasonic will invest more than $256 million in a New York production facility of Elon Musk's Tesla Motors to make photovoltaic (PV) cells and modules, deepening a partnership of the two companies. Japan's Panasonic, which has been retreating from low-margin consumer electronics to focus more on automotive components and other businesses targeting corporate clients, will make the investment in Tesla's factory in Buffalo, New York.
---
DELTA AIRLINES SCRAPS BOEING DREAMLINER ORDER INHERITED THROUGH NORTHWEST AIRLINES MERGER
Delta Air Lines Inc. scrapped an order for 18 Boeing Co. widebody Dreamliner jets valued at $4 billion at list prices, a commitment that was inherited with the company's 2008 merger with Northwest Airlines. Atlanta-based Delta reached an agreement with Boeing on the cancellation, without disclosing terms, according to a statement from the carrier Tuesday. The airline is sticking with orders already in progress for 120 narrowbody Boeing 737-900ERs. The 787-8 Dreamliners had been on Delta's order book since the Northwest Airlines deal.
Read More at Wall Street Journal Here
---
Closing Bell
– Tuesday, December 27th
Markets Close Slightly Higher Behind Tech
Big Insider Trades
– Facebook, Inc. (FB) COO Sheryl Sandberg Sells $12.8m
-Six Flags Entertainment Corp. (SIX) CEO John Duffey Buys $1.5m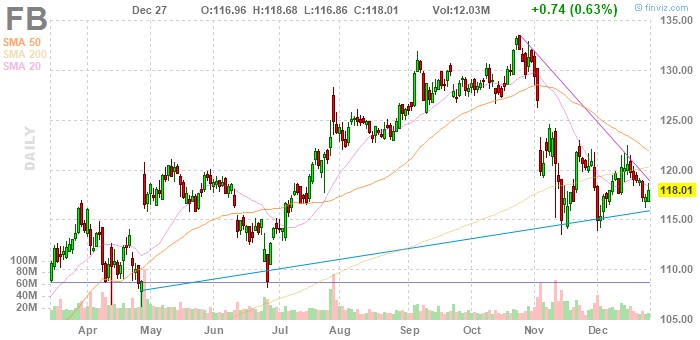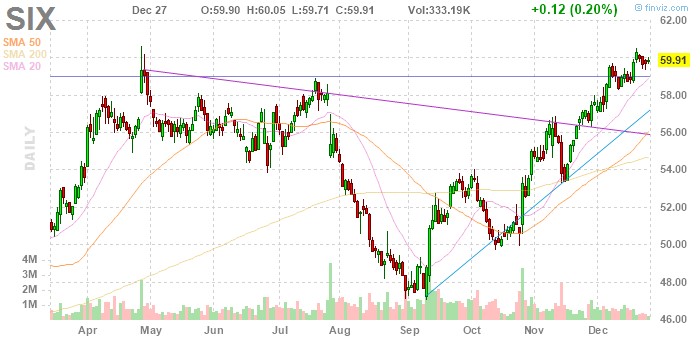 Winners & Losers
– Conatus Pharmaceuticals, Inc. (CNAT) Soars UP (37.92%) After Analyst Buy Reiteration Following Collaboration and License Agreement with Novartis
– Endologix, Inc. (ELGX) Tumbles DOWN (26.70%) After Investigation into Medical Device Manufacturing Issue Causes Company to Halt Shipments of its Top Product
Most Talked About
Tesla Motors, Inc. (TSLA) Sees Uptick in Chatter, Considered Majority Strong Buy After Panasonic Increases Stake in Partnership and Companies Begin Producing Solar Cells in Buffalo Plant.
The TIP Sheets
– Tuesday, December 27th
– Seattle Genetics, Inc. (SGEN) Plummets DOWN (15.36%) After Announcing FDA Has Put a Clinical Hold on Multiple Early Stage Clinical Trials Testing its Cancer Drug. Expect Shares to Continue DOWN
Unusual Volume
– Conatus Pharmaceuticals, Inc. (CNAT) Soars UP (37.92%) on 23.5m Shares Traded After its Buy Rating is Reiterated by Analysts Buy Reiteration Following Collaboration and License Agreement with Novartis. Look For Shares to Continue UP
Morgan Stanley Sees a V-Shaped Global Recovery
Morgan Stanley experts are looking at complete recovery by the end of year, and are confident that the economy will be back at pre-coronavirus levels by the fourth quarter. The firm noted three reasons why the recession will short-lived: 
Huge imbalances did cause an endogenous shock 

Deleveraging pressures will be more moderate

Policy support has been decisive, sizable and will be effective in boosting the recovery
In the US, more economists are seeing a V-shaped recovery in the making, instead of the previous thought W or U shaped models. They noted recent positive announcements from the federal government including the generation of an additional 2.5 million non-farm jobs, and the low interest rates from the Federal Reserve. 
Analysts expect most countries to post negative GDPs in the second quarter and strongly rebound in the third towards full recovery by the fourth. Even if the timetable for the coronavirus vaccine remains uncertain, they foresee that recurring outbreaks can be more controlled and managed compared to earlier this year.
Watch this video to see more of Morgan Stanley's forecast of the V-Shaped Global Recovery.
The Rise of the Retail Investor: How Ordinary Folk Are Beating Wall Street at Their Own Game
Mom-and-pop investors are outperforming Wall Street old-timers, but what is the real reason why? Somehow, stocks bought by the so-called "dumb money" investors generate 61% returns compared to stock picks of mutual fund and hedge fund managers, who are returning a lower rate of 45%. 
A new breed of retail investors is on the rise, buoyed by the "things-are-looking-up"reports last May that foresaw a rebound in the market and an end in sight for the coronavirus-led lockdowns. In addition, the Federal Reserve has kept interest rates to zero and near-zero levels since March in order to help protect the economy from the effects of COVID-19.
According to Goldman Sachs, retail investors were able to pull off their victory because they were quicker to acquire high value stocks as the market rally started gaining ground. By May, these investors began shifting to cyclicals, small capital stocks, and economically sensitive stocks, who all warmed up to the positive outlook.  
Apart from the lockdown and unemployment induced environment that led to an increase in retail investors, the stock feeding frenzy was seen as a reaction to the Fed Chairman Jerome Powell's movements to keep the markets healthy by the time recession hits. The lowering of the Fed interest rates to 0 – 0.25 is an indication that money will be available at least until 2022.  
Some of the stocks that benefited from the outpouring of investments from retail traders include Penn National Gaming, Royal Carribbean, Norwegian Cruise Lines, Apple, Facebook, Nvidia, Snap, GM, Ford, Tesla, MGM Resorts, and Groupon. They also include some questionable buys such as Hertz, which has previously filed for bankruptcy but has been allowed to issue stocks. 
It has been noted that the surge of retail investors were an offshoot of factors: the popularity of minimum amount trades, the Robinhood no-commission trading app, and the general lack of activity among people recently unemployed and those forced to stay home during the lockdown. 
The Capitalist Newsletter – August 2, 2017
WHAT TRUMP'S ADVISORS WANT THE PRESIDENT TO UNDERSTAND
Sarah Huckabee Sanders has an interestingly difficult job; specifically, she works for a knothead. This morning, NPR reported that President Trump said, "Business spirit is the highest it's ever been, according to polls." He continued, "If you look at the polls, (it's) the highest it's ever been in the history of these polls."
But is that really the case? What do Trump's advisors have to say about it?
Read The Capitalist's Take Here
---
SPRINT CEO HINTS AT DEAL PROSPECTS; SAYS MERGER DECISION IS NEAR
Sprint Corp. said it would decide soon on whether to pursue a merger with either T-Mobile US Inc. or Charter Communications Inc., with an announcement coming "in the near future," according to the wireless carrier's chief executive.
"We've had sufficient conversations with several parties and soon we're going to start making decisions," Sprint CEO Marcelo Claure said on a call Tuesday after the company reported results for the three months ending June 30.
---
HBO LATEST HACK VICTIM; UPCOMING GAME OF THRONES DATA, SHOWS, MAY BE LEAKED
HBO has joined the ranks of Hollywood entertainment companies to suffer a major cyber attack.
EW has learned that upcoming episodes of a couple series and at least one alleged script or treatment have been put online by hackers who breached the company's systems — with more threatened to be coming soon.
"HBO recently experienced a cyber incident, which resulted in the compromise of proprietary information," the network confirmed in a statement. "We immediately began investigating the incident and are working with law enforcement and outside cybersecurity firms. Data protection is a top priority at HBO, and we take seriously our responsibility to protect the data we hold."
Read More at Entertainment Weekly Here
---
Closing Bell
– Tuesday, August 1st
Markets Soar UP as Wall Street Cheers Strong Earnings
Big Insider Trades
– Guidewire Software, Inc. (GWRE) CEO Marcus Ryu Sells $1.8m
– Discovery Communications, Inc. (DISCA) CFO Gunnar Wiedenfels Buys $460k
Winners & Losers
– CombiMatrix Corp. (CBMX) Soars UP (42.42%) After Entering into Agreement to be Acquired for $33 Million
– Kona Grill, Inc. (KONA) Tumbles DOWN (26.42%) After Major Earnings Miss
Most Talked About
CytRX Corp. (CYTR) Considered a Near Unanimous Strong Buy on Licensing Deal Agreement with NantCell
The TIP Sheets
– Tuesday, August 1st
– Shopify, Inc. (SHOP) Shoots UP (12.68%) to Record High After Crossing 500k Merchants. With Revenue Growing 75% Year over Year, Expect Shares to Continue UP
Unusual Volume
Under Armour, Inc. (UA) Slides DOWN (10.38%) on 24m Shares Traded to Record Low After Retailer Cuts 2% of its Workforce, Trims 2017 Sales Outlook. UA Also Announced a Restructuring Plan. Expect Shares to Continue DOWN