The Capitalist Newsletter – January 6, 2017
CARNIVAL CRUISE LINES INTRODUCES WEARABLE TECH; LOOKS TO TRANSFORM CRUISE EXPERIENCE
Carnival Cruise Lines has always been known as "the fun ship". Now it looks like the company is changing that to "the smart ship". Carnival, the largest cruise operator in the world just unveiled a digital concierge program that will turn ships into connected, floating hotels which will anticipate passenger needs like never before. How can tech transform a cruise? What can we expect from the cruise line moving forward?
Read The Capitalist's Take Here
---
MONTHS AFTER RECEIVING BIDS FOR $2 BILLION, SEARS TO SELL CRAFTSMAN BRAND TO STANLEY BLACK & DECKER FOR $900 MILLION
Stanley Black & Decker said on Thursday it would buy Sears Holdings' Craftsman tool brand for $900 million, strengthening its portfolio of hand and power tools. Struggling Sears, whose shares were recently up 49 cents, or 4.7 percent, at $10.85, said in May it wanted to expand the business housing its Craftsman, Kenmore appliance and DieHard vehicle battery brands beyond Sears and Kmart stores..
---
CONSUMER ELECTRONICS SHOW GETS UNDERWAY IN LAS VEGAS; HERE'S WHAT'S COMING
No, CES still hasn't officially begun, but I don't blame you for thinking so given the torrent of news we've seen so far. And today, or CES press day as it's called, was even busier with a long schedule of press conferences from big name companies battling to one-up each other. It's exciting and a bit confusing given the volume, but CNET is here to bring you the coolest and weirdest tech we saw today. So buckle your seatBelt, we're going for a ride…..
---
Closing Bell
– Thursday, January 5th
Markets Close Mostly Lower as Financials, Retailers Weigh
Big Insider Trades
– Jack in the Box, Inc. (JACK) EVP Mark Blankenship Sells $3.5m
-Och-Ziff Capital Management Group LLC (OZM) Stake Owner Abrams Capital Management LP Buys $3m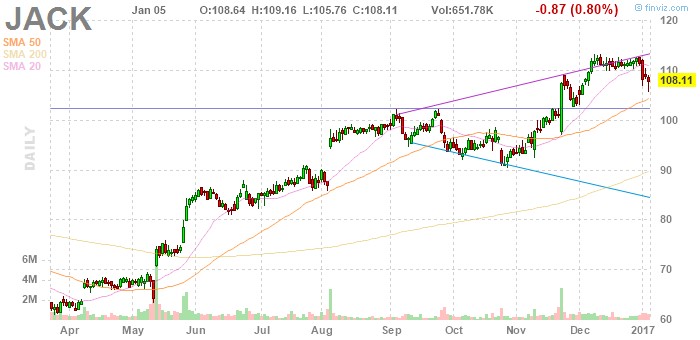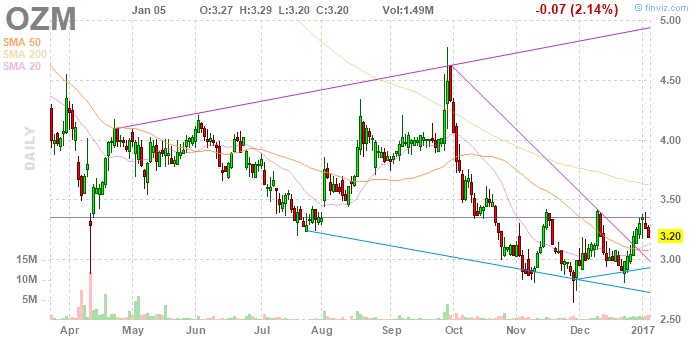 Winners & Losers
– EnteroMedics, Inc. (ETRM) Jumps UP (89.95%) After the Company's Treatment for Obesity, Metabolic Diseases, and Other Gastrointestinal Disorders was Implemented at Two Additional Institutes
– Kohl's Corp. (KSS) Tumbles DOWN (19.02%) After Company's Dismal Holiday Sales Cast Gloom Over Sector
Most Talked About
Genocea Biosciences, Inc. (GNCA) an Overwhelming Strong Buy Following Positive Phase 2 Drug Trial Results
The TIP Sheets
– Thursday, January 5th
– Halozyme Therapeutics, Inc. (HALO) Pops UP (17.96%) After Anouncing Stellar Phase 2 Results for Pancreatic Cancer Drug Trial. As the Company Prepares for Phase 3, Look for Shares to Continue UP
Unusual Volume
– Macy's, Inc. (M) Tumbles DOWN Another (13.9%) on 29.5m Shares Traded Following its Dismal Holiday Shares. Combined with Doubt Over the Entire Sector Competing with Online Retailers, Expect Shares to Continue DOWN