The Capitalist Newsletter – March 21, 2017
TRUMP'S PICK FOR SUPREME COURT, NEIL GORSUCH, STARTS HEARING; HERE'S HOW IT WENT
It's been more than a year since the death of Supreme Court Justice Antonin Scalia in February of 2016. With almost a year left in his tenure as president, Barack Obama moved to fill the position and was blocked by house Republicans regardless of what party his nomination belonged to. Now, the tables have turned as Democrats have the opportunity to do the same towards Donald Trump's replacement pick, Judge Neil Gorsuch. However, with Democrats having already confirmed Gorsuch once before, is the SCOTUS pick a sure thing?
Read The Capitalist's Take Here
---
FBI FINDS NO CLAIM OF WIRETAP, CONFIRMS PROBE INTO TRUMP ADMINISTRATION'S TIES TO RUSSIA
Federal Bureau of Investigation Director James Comey confirmed for the first time Monday that his agency is involved in an investigation into links between the Russian government and the 2016 campaign of President Donald Trump.
Mr. Comey at a congressional hearing also said for the first time that there is "no information" that supports Mr. Trump's repeated claims that former President Barack Obama wiretapped him during the campaign.
Read More at Wall Street Journal Here
Read More at Washington Post Here
---
COSTCO SUES TITLEIST IN BATTLE OVER GOLF BALLS
The improbable popularity of a new golf ball sold by Costco Wholesale Corp. has sparked a legal battle between the company and Titleist, the manufacturer of golf's top-selling ball. In a lawsuit filed Friday in U.S. District Court in Seattle, Costco asks for a declaratory judgment against Acushnet Holdings Corp. which owns Titleist, related to Costco's sale of the ball under its Kirkland Signature brand. Costco is asking the court to rule that the ball doesn't infringe on any valid patent rights owned by Acushnet and that it hasn't engaged in any false advertising in reference to the ball.
---
Closing Bell
– Monday, March 20th
Markets Close DOWN on Congressional Hearings, Oil Slide
Big Insider Trades
– Ulta Beauty, Inc. (ULTA) CEO Mary Dillon Sells $9.75m
– Analog Devices, Inc. (ADI) Director Bruce Evans Buys $2m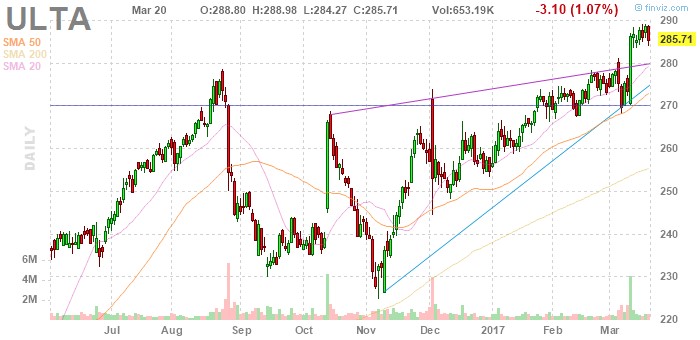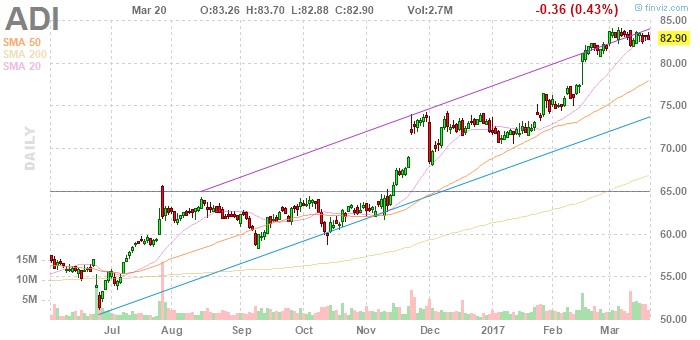 Winners & Losers
– Esperion Therapeutics, Inc. (ESPR) Soars UP (74.14%) After Seeing Clear Path Through FDA for Heart Drug with Data From Trials Currently Underway
– Aevi Genomic Medicine, Inc. (GNMX) Crashes DOWN (59.37%) After Company Announces Failed Clinical Trial for its Lead Drug
Most Talked About
Esperion Therapeutics, Inc. (ESPR) Considered a Majority Strong Buy After Data From Trials Currently Underway Shows Clear Path for FDA Approval
The TIP Sheets
– Monday, March 20th
– Nektar Therapeutics (NKTR) Jumps UP (42.65%) After Upbeat Clinical Data for Drug to Help Treat Moderate to Severe Chronic Lower Back Pain. Expect Shares to Continue UP
Unusual Volume
Esperion Therapeutics, Inc. (TGTX) Soars UP (74.14%) on 30.5m Shares Traded After Extremely Positive Drug Trial Results Hint at Clear FDA Approval Path. The Drug is an LDL Cholesterol Lowering Treatment Which Would be Significantly More Cost Effective Than the Recent Amgen Heart Drug. Expect Shares to Continue UP