The Capitalist Newsletter – March 23, 2017
DELAYS IN POLICY STALL MARKETS; IS "TRUMP TRADE" OVER?
When Donald Trump took over as the 45th President of the United States, expectations were that the stock market would crash amid the unpredictability of a first time politician taking the highest political post in the land. But that didn't happen. In fact, under Trump, the stock market has thrived, with the Dow Jones breaking records and achieving never before seen closes over 21,000 points. However, as all good things must come to an end, has Trump Trade done just that? Concerns over delays in Trump executing his promises have traders worried. Are those concerns justified?
Read The Capitalist's Take Here
---
AMAZON TO BUILD UP BRAND REGISTRY IN FIGHT AGAINST COUNTERFEITERS
Amazon isn't faking its desire to root out counterfeits. As soon as next month, Amazon will start a registry for companies to list their logos and intellectual property with the world's largest online store, Peter Faricy, vice president of Amazon Marketplace, told Reuters before his presentation at this week's Shoptalk retail conference in Las Vegas. The registry, currently being tested, will let Amazon remove listings and potentially cancel seller accounts if counterfeit products are spotted, he said.
In an email, Amazon confirmed the statements, which Faricy made at the Shoptalk commerce conference in Las Vegas.
---
COSTCO EXPANDS TO HOME DELIVERY THROUGH THIRD PARTY
A delivery service announced Tuesday that it will start making runs to Costco to pick up orders for customers, another move toward a world in which traditional retailers compete side-by-side with online sellers to move goods directly to homes. The service, Shipt, says it is launching its Costco service in Tampa and plans to expand to 50 markets and more than 30 million households by the end of the year…
---
Closing Bell
– Wednesday, March 22nd
Markets Tick UP as Techs Draw buying Interest
Big Insider Trades
– Facebook, Inc. (FB) CPO Christopher Cox Sells $2.25m
– Sonic Automotive, Inc. (SAH) Executive Chairman Bruton Smith Buys $2m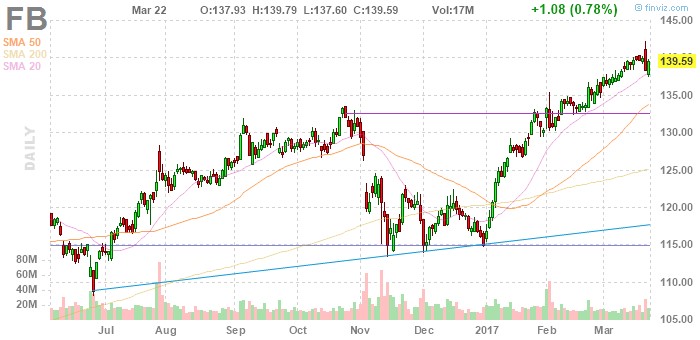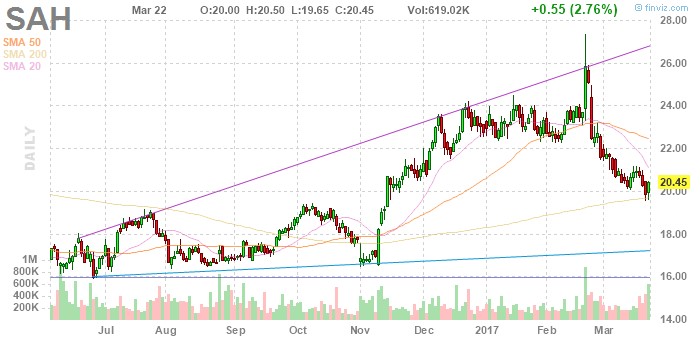 Winners & Losers
– Moleculin Biotech, Inc. (MBRX) Jumps UP (24.30%) After Announcing Orphan Drug Designation for Annamycin for Treatment of AML
– Diana Containerships, Inc. (DCIX) Sinks (28.07%) After Announcing up to $150 Million Securities Offering
Most Talked About
Sears Holdings Corp. (SHLD) Considered a Majority Strong Sell After Company Acknowledges Serious Financial Struggles
The TIP Sheets
– Wednesday, March 22nd
– Sears Holdings Corp. (SHLD) Drops DOWN (12.31%) After Company Acknowledges Serious Financial Struggles. Sears May Not Even Have Enough Money to Stock its Shelves. Expect More Store Closings and for Shares to Continue DOWN
Unusual Volume
Frontier Communications Corp. (FTR) Drops DOWN (10.59%) on 105m Shares Traded After Goldman Sachs Downgrades to a Sell Rating. Expect Shares to Continue DOWN