The Capitalist Newsletter – March 29, 2017
KANSAS GOP LAWMAKERS VOTE TO EXPAND MEDICAID; IS OBAMACARE THRIVING?
Just days ago, President Trump and the GOP were set to hold a vote to repeal and replace the Affordable Care Act with the America First Health Plan. But as Thursday rolled around and President Trump didn't have the votes he needed to pass his bill, the vote was pushed back to Friday. Then came Friday, and the vote was scrapped as Trump faced opposition not only from across the aisle, but from within his own party, as well. Now, Kansas GOP lawmakers have taken the situation one step further and approved Medicaid expansion in Kansas. Is Kansas a domino ready to kickstart Obamacare across the country?
---
TRUMP SIGNS EXECUTIVE ORDER ROLLING BACK OBAMA-ERA ENERGY REGS
President Trump moved Tuesday to unravel a host of energy regulations imposed by his predecessor, targeting in particular the Obama administration's signature program that was intended to curb carbon emissions – but blasted by Republicans for hurting the already-struggling coal industry. With a sweeping executive order signed at EPA headquarters, Trump initiated an immediate review of the Clean Power Plan, which restricts greenhouse gas emissions at coal-fired power plants. Surrounded by coal miners, the president described that plan as a "crushing attack" on workers and vowed to nix "job-killing regulations."…
---
U.S. HOMES PRICES RISE TO THE HIGHEST LEVEL IN OVER TWO YEARS
A gauge of US home prices rose to a 31-month high in January.
The S&P CoreLogic Case-Shiller national home-price index climbed 5.9%, not seasonally adjusted, according to a monthly report published Tuesday. The highest price increases were again recorded in the red-hot markets of Seattle, Portland, and Denver.
---
Closing Bell
– Tuesday, March 28th
Markets Close UP as Financials Lead the Way
Big Insider Trades
– Ulta Beauty, Inc. (ULTA) Director Dennis Eck Sells $1.8m
– National General Holdings Corp (NGHC) CEO Barry Karfunkel Buys $1m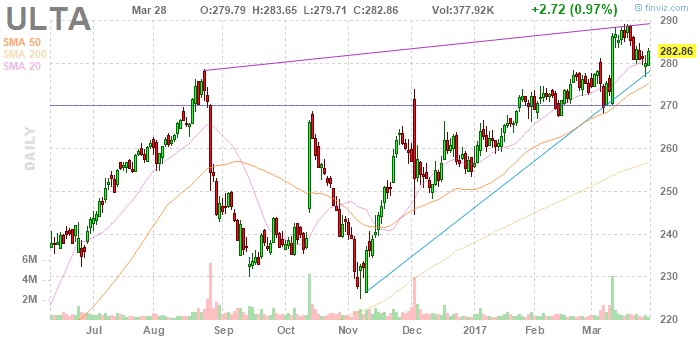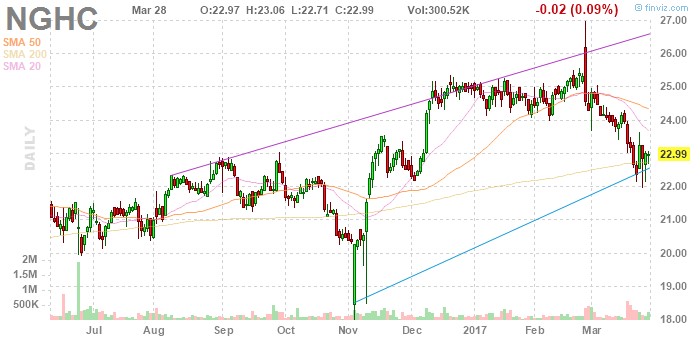 Winners & Losers
– Catalyst Biosciences, Inc. (CBIO) Skyrockets UP (191.46%) After Company's New Drug Receives Approval from the Korean Ministry of Food and Drug Safety
– Cryoport, Inc. (CYRX) Tumbles DOWN (46.43%) After Share Offering Prices at Deep Discount
Most Talked About
Diffusion Pharmaceuticals, Inc. (DFFN) a Near Unanimous Strong Buy After Being Awarded Key Patent for Proprietary Salt Compounds
The TIP Sheets
– Tuesday, March 28th
– Sears Holding Corp. (SHLD) Jumps UP (19.83%) After Key Investors Snatch up Significant Amounts of Shares. However, with no Changes to the Retailer's Strategy, Expect Shares to Continue DOWN
Unusual Volume
Diffusion Pharmaceuticals, Inc. (DFFN) Soars UP (81.75%) on 7.5m Shares Traded After Being Awarded Key Patent for Proprietary Salt Compounds, Which Are Useful in Improving Diffusivity of Oxygen Between Red Blood Cells and Body Tissues in Humans. Expect Shares to Continue UP