The Capitalist Newsletter – December 22, 2016
ALIBABA LANDS ON U.S. GOVERNMENT'S BLACKLIST FOR NOTORIOUS COUNTERFEIT MARKETPLACES
Alibaba has been competing with Amazon for years in the online retailer space. But that competition just took a surprise turn for Alibaba – and Amazon should be celebrating. On Wednesday, the Office of the United States Trade Representative placed Alibaba back on its Notorious Markets List just four years after Alibaba was removed from that list for combatting fraud. How bad is the news for Alibaba? What happens next for the e-commerce giant?
Read The Capitalist's Take Here
---
CARL ICAHN NAMED SPECIAL ADVISOR ON REGULATION BY DONALD TRUMP
Wall Street maven Carl Icahn will advise President-elect Trump on matters of regulatory reform, giving the famed investor a key say in how his own industry is monitored. Icahn will advise Trump on regulatory topics as an individual, not as a federal employee and won't have any specific duties, according to a release from the Trump transition team. But it's clear Icahn and Trump agree on what needs to be done – reduce rules.
---
NOKIA SUES APPLE FOR PATENT INFRINGEMENT; APPLE COUNTERSUES IN RETURN
Apple Inc. and Nokia Corp.filed competing lawsuits over intellectual property used in the iPhone and other Apple products. The suits, filed this weekin the U.S. and Germany, mark the second time in the past seven years that the companies have squared off in a dispute over patents. In 2011, Apple settled a two-year patent case with Nokia and agreed to pay licensing royalties for use of some Nokia patents in iPhones.
Read More at Wall Street Journal Here
---
Closing Bell
– Wednesday, December 21st
Healthcare and Industrials Drag Markets Lower as Dow Stays in Striking Distance of 20k
Big Insider Trades
– Salesforce.com, Inc. (CRM) CEO Marc Benioff Sells Another $875k
-Reed's, Inc. (REED) CEO Christopher Reed Buys $13.5m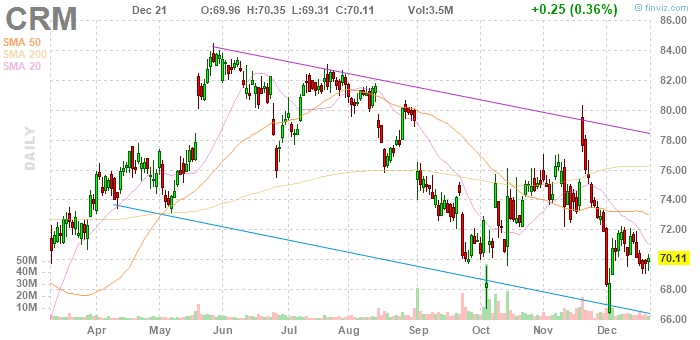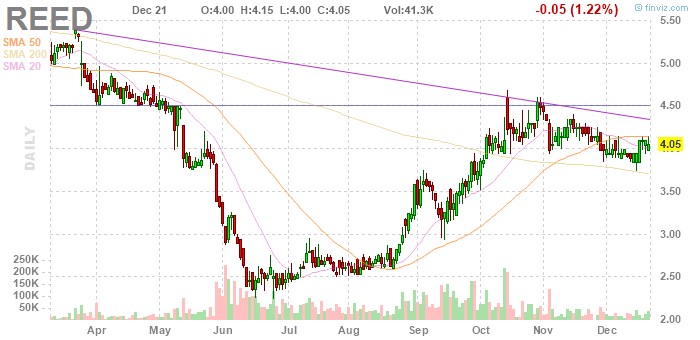 Winners & Losers
– Twilio, Inc. (TWLO) Surges UP (15.61%) on Expanded Amazon Web Services Deal
– ServisFirst Bancshares, Inc. (SFBS) Plunges DOWN (48.70%) After Declaring Fourth Quarter Dividends of $0.04
Most Talked About
Merus N.V. (MRUS) a Consensus Strong Buy After Announcing the Company is Entering Into a Global Strategic Partnership with Incyte Corporation
The TIP Sheets
– Wednesday, December 21st
– The Finish Line, Inc. (FINL) Drops (8.74%) After Revealing Dismal Q3 Losses. The Company's Losses Nearly Doubled to $40.4 Million from the Same Time Period One Year Ago. Expect Shares to Continue DOWN
Unusual Volume
– InvenSense, Inc. (INVN) Jumps UP (17.62%) on 35mShares Traded After Announcing Japan's TDK to Buy the Company for $1.3 Billion. Look For Shares to Continue UP
Morgan Stanley Sees a V-Shaped Global Recovery
Morgan Stanley experts are looking at complete recovery by the end of year, and are confident that the economy will be back at pre-coronavirus levels by the fourth quarter. The firm noted three reasons why the recession will short-lived: 
Huge imbalances did cause an endogenous shock 

Deleveraging pressures will be more moderate

Policy support has been decisive, sizable and will be effective in boosting the recovery
In the US, more economists are seeing a V-shaped recovery in the making, instead of the previous thought W or U shaped models. They noted recent positive announcements from the federal government including the generation of an additional 2.5 million non-farm jobs, and the low interest rates from the Federal Reserve. 
Analysts expect most countries to post negative GDPs in the second quarter and strongly rebound in the third towards full recovery by the fourth. Even if the timetable for the coronavirus vaccine remains uncertain, they foresee that recurring outbreaks can be more controlled and managed compared to earlier this year.
Watch this video to see more of Morgan Stanley's forecast of the V-Shaped Global Recovery.
The Rise of the Retail Investor: How Ordinary Folk Are Beating Wall Street at Their Own Game
Mom-and-pop investors are outperforming Wall Street old-timers, but what is the real reason why? Somehow, stocks bought by the so-called "dumb money" investors generate 61% returns compared to stock picks of mutual fund and hedge fund managers, who are returning a lower rate of 45%. 
A new breed of retail investors is on the rise, buoyed by the "things-are-looking-up"reports last May that foresaw a rebound in the market and an end in sight for the coronavirus-led lockdowns. In addition, the Federal Reserve has kept interest rates to zero and near-zero levels since March in order to help protect the economy from the effects of COVID-19.
According to Goldman Sachs, retail investors were able to pull off their victory because they were quicker to acquire high value stocks as the market rally started gaining ground. By May, these investors began shifting to cyclicals, small capital stocks, and economically sensitive stocks, who all warmed up to the positive outlook.  
Apart from the lockdown and unemployment induced environment that led to an increase in retail investors, the stock feeding frenzy was seen as a reaction to the Fed Chairman Jerome Powell's movements to keep the markets healthy by the time recession hits. The lowering of the Fed interest rates to 0 – 0.25 is an indication that money will be available at least until 2022.  
Some of the stocks that benefited from the outpouring of investments from retail traders include Penn National Gaming, Royal Carribbean, Norwegian Cruise Lines, Apple, Facebook, Nvidia, Snap, GM, Ford, Tesla, MGM Resorts, and Groupon. They also include some questionable buys such as Hertz, which has previously filed for bankruptcy but has been allowed to issue stocks. 
It has been noted that the surge of retail investors were an offshoot of factors: the popularity of minimum amount trades, the Robinhood no-commission trading app, and the general lack of activity among people recently unemployed and those forced to stay home during the lockdown. 
The Capitalist Newsletter – August 2, 2017
WHAT TRUMP'S ADVISORS WANT THE PRESIDENT TO UNDERSTAND
Sarah Huckabee Sanders has an interestingly difficult job; specifically, she works for a knothead. This morning, NPR reported that President Trump said, "Business spirit is the highest it's ever been, according to polls." He continued, "If you look at the polls, (it's) the highest it's ever been in the history of these polls."
But is that really the case? What do Trump's advisors have to say about it?
Read The Capitalist's Take Here
---
SPRINT CEO HINTS AT DEAL PROSPECTS; SAYS MERGER DECISION IS NEAR
Sprint Corp. said it would decide soon on whether to pursue a merger with either T-Mobile US Inc. or Charter Communications Inc., with an announcement coming "in the near future," according to the wireless carrier's chief executive.
"We've had sufficient conversations with several parties and soon we're going to start making decisions," Sprint CEO Marcelo Claure said on a call Tuesday after the company reported results for the three months ending June 30.
---
HBO LATEST HACK VICTIM; UPCOMING GAME OF THRONES DATA, SHOWS, MAY BE LEAKED
HBO has joined the ranks of Hollywood entertainment companies to suffer a major cyber attack.
EW has learned that upcoming episodes of a couple series and at least one alleged script or treatment have been put online by hackers who breached the company's systems — with more threatened to be coming soon.
"HBO recently experienced a cyber incident, which resulted in the compromise of proprietary information," the network confirmed in a statement. "We immediately began investigating the incident and are working with law enforcement and outside cybersecurity firms. Data protection is a top priority at HBO, and we take seriously our responsibility to protect the data we hold."
Read More at Entertainment Weekly Here
---
Closing Bell
– Tuesday, August 1st
Markets Soar UP as Wall Street Cheers Strong Earnings
Big Insider Trades
– Guidewire Software, Inc. (GWRE) CEO Marcus Ryu Sells $1.8m
– Discovery Communications, Inc. (DISCA) CFO Gunnar Wiedenfels Buys $460k
Winners & Losers
– CombiMatrix Corp. (CBMX) Soars UP (42.42%) After Entering into Agreement to be Acquired for $33 Million
– Kona Grill, Inc. (KONA) Tumbles DOWN (26.42%) After Major Earnings Miss
Most Talked About
CytRX Corp. (CYTR) Considered a Near Unanimous Strong Buy on Licensing Deal Agreement with NantCell
The TIP Sheets
– Tuesday, August 1st
– Shopify, Inc. (SHOP) Shoots UP (12.68%) to Record High After Crossing 500k Merchants. With Revenue Growing 75% Year over Year, Expect Shares to Continue UP
Unusual Volume
Under Armour, Inc. (UA) Slides DOWN (10.38%) on 24m Shares Traded to Record Low After Retailer Cuts 2% of its Workforce, Trims 2017 Sales Outlook. UA Also Announced a Restructuring Plan. Expect Shares to Continue DOWN