The Capitalist Newsletter – December 23, 2016
TRUMP TAPS CHINA CRITIC NAVARRO TO HEAD NEW WHITE HOUSE NATIONAL TRADE COUNCIL
On Wednesday, President-Elect Donald Trump announced the creation of a new advisory board; The White House National Trade Council. Trump also announced his pick for head of the new council; Peter Navarro, economist author of "Death by China". Tapping Navarro as head of the new NTC sends a not-so-subtle message to China. But how much power will Navarro really have?
Read The Capitalist's Take Here
Read More at Wall Street Journal
---
U.S. SUES BARCLAYS OVER ALLEGED MORTGAGE SECURITIES FRAUD
The Department of Justice sued British banking giant Barclays plc and several of its U.S. affiliates Thursday for allegedly deceiving investors who were sold mortgage securities in the years leading to the financial crisis. Barclays representatives repeatedly misrepresented the investment quality of residential mortgage-backed securities they sold to investors from 2005-2007, the lawsuit charged. As a result, investors from around the world who bought the securities suffered billions of dollars in losses, DOJ officials charged.
---
UBER'S SELF DRIVING CARS PROJECT FORCED TO LEAVE SAN FRAN; MOVES TO ARIZONA
Just one day after Uber was forced to shut down its self-driving car program in San Francisco, the company is moving its cars to Phoenix, the company said on Thursday. "Our cars departed for Arizona this morning by truck," an Uber spokesperson said in a statement of the fleet of modified Volvo XC90 cars. "We'll be expanding our self-driving pilot there in the next few weeks, and we're excited to have the support of Governor Ducey."
---
Closing Bell
– Thursday, December 22nd
Markets Edge Lower in Quiet Session as Holidays
Big Insider Trades
– ServiceNow, Inc. (NOW) Director Frederic Luddy Sells $7.3m
-Gran Tierra Energy, Inc. (GTE) Director Ronald Royal Buys $350k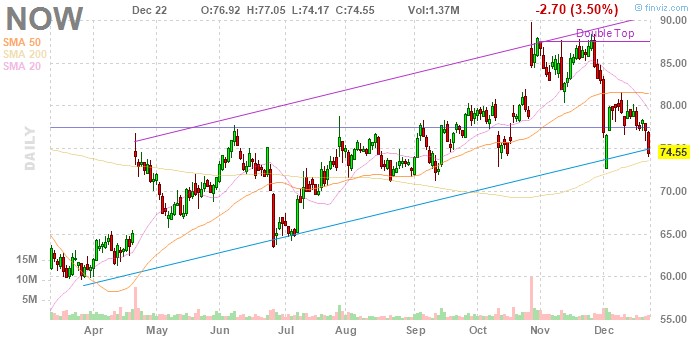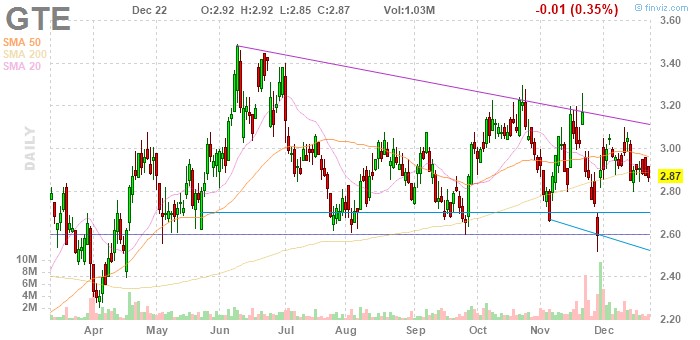 Winners & Losers
– Sunoco LP (SUN) Jumps UP (12.66%) After Blackrock Advisors Substantially Increases Stake in the Company
– OvaScience, Inc. (OVAS) Plummets DOWN (54.88%) Amid Layoffs, Abrupt Departures of Top Executives
Most Talked About
Conagra Brands, Inc. (CAG) a Unanimous Strong Buy After Profit Beat Sends Shares to Record High
The TIP Sheets
– Thursday, December 22nd
– Red Hat Inc. (RHT) Slips DOWN (13.85%) Despite Strong Earnings After Revenue Hiccups and CFO Departure. Expect Shares to Continue DOWN
Unusual Volume
– Micron Technology, Inc. (MU) Jumps UP (12.68%) on 85.6m Shares Traded After "Eye Popping" Q2 Guidance. The Memory Chip Maker's Fiscal Q1 Earnings Were Significantly Better Than Expected. Look For Shares to Continue UP
The Capitalist Newsletter – August 2, 2017
WHAT TRUMP'S ADVISORS WANT THE PRESIDENT TO UNDERSTAND
Sarah Huckabee Sanders has an interestingly difficult job; specifically, she works for a knothead. This morning, NPR reported that President Trump said, "Business spirit is the highest it's ever been, according to polls." He continued, "If you look at the polls, (it's) the highest it's ever been in the history of these polls."
But is that really the case? What do Trump's advisors have to say about it?
Read The Capitalist's Take Here
---
SPRINT CEO HINTS AT DEAL PROSPECTS; SAYS MERGER DECISION IS NEAR
Sprint Corp. said it would decide soon on whether to pursue a merger with either T-Mobile US Inc. or Charter Communications Inc., with an announcement coming "in the near future," according to the wireless carrier's chief executive.
"We've had sufficient conversations with several parties and soon we're going to start making decisions," Sprint CEO Marcelo Claure said on a call Tuesday after the company reported results for the three months ending June 30.
---
HBO LATEST HACK VICTIM; UPCOMING GAME OF THRONES DATA, SHOWS, MAY BE LEAKED
HBO has joined the ranks of Hollywood entertainment companies to suffer a major cyber attack.
EW has learned that upcoming episodes of a couple series and at least one alleged script or treatment have been put online by hackers who breached the company's systems — with more threatened to be coming soon.
"HBO recently experienced a cyber incident, which resulted in the compromise of proprietary information," the network confirmed in a statement. "We immediately began investigating the incident and are working with law enforcement and outside cybersecurity firms. Data protection is a top priority at HBO, and we take seriously our responsibility to protect the data we hold."
Read More at Entertainment Weekly Here
---
Closing Bell
– Tuesday, August 1st
Markets Soar UP as Wall Street Cheers Strong Earnings
Big Insider Trades
– Guidewire Software, Inc. (GWRE) CEO Marcus Ryu Sells $1.8m
– Discovery Communications, Inc. (DISCA) CFO Gunnar Wiedenfels Buys $460k
Winners & Losers
– CombiMatrix Corp. (CBMX) Soars UP (42.42%) After Entering into Agreement to be Acquired for $33 Million
– Kona Grill, Inc. (KONA) Tumbles DOWN (26.42%) After Major Earnings Miss
Most Talked About
CytRX Corp. (CYTR) Considered a Near Unanimous Strong Buy on Licensing Deal Agreement with NantCell
The TIP Sheets
– Tuesday, August 1st
– Shopify, Inc. (SHOP) Shoots UP (12.68%) to Record High After Crossing 500k Merchants. With Revenue Growing 75% Year over Year, Expect Shares to Continue UP
Unusual Volume
Under Armour, Inc. (UA) Slides DOWN (10.38%) on 24m Shares Traded to Record Low After Retailer Cuts 2% of its Workforce, Trims 2017 Sales Outlook. UA Also Announced a Restructuring Plan. Expect Shares to Continue DOWN
The Capitalist Newsletter – August 1, 2017
A LOOK INTO A TRADING ANOMALY SHOWS INSIGHT INTO WHAT'S READY TO CHANGE
Earnings are here, and there's an unusual phenomenon occurring. You'll discover exactly what that is in Guy Cohen's video today. A few weeks ago, Guy mentioned hesitation about the nature of this earnings cycle, and so far he's been proven right.
If you've been around Guy for any length of time, you'll notice that sometimes he's super confident. And sometimes he's more cautious.
And in this earnings cycle, caution has been key right from the start, even though Guy always has high expectations. And while the markets have trundled up during the first half of this earnings cycle, there is an unusual phenomenon that makes Guy a lot more cautious. As you spend more time with Guy, you'll also pick up on these things and discover your instincts for the markets improve.
That's also because you'll start looking at very distinctive behaviour that is a direct indication of supply and demand in the markets at the leveraged level of activity … i.e where the serious risk-takers are operating …
Watch Today's OVI Market Review – Unusual Behaviour Means Something Will Have to Give Take Here…
---
TRUMP OUSTS SCARAMUCCI AS WHITE HOUSE COMMUNICATIONS DIRECTOR AFTER JUST 10 DAYS
President Trump's headline-grabbing communications director Anthony Scaramucci was shown the door Monday after just 11 days on the job – as retired Gen. John Kelly took command of the White House staff, moving swiftly to impose order on a West Wing gripped for weeks by infighting.
White House Press Secretary Sarah Huckabee Sanders would not confirm reports that Kelly personally requested Scaramucci's removal — but she made clear that the former Homeland Security secretary now has full control of the staff.
---
IN WAKE OF 'SHAM ELECTION', U.S. SANCTIONS VENEZUELAN PRESIDENT MADURO; FREEZES ASSETS
Just one day after a nationwide vote to consolidate Venezuelan President Nicolas Maduro's hold on power, the U.S. Treasury Department has leveled a new round of sanctions against the regime — this time against Maduro himself.
"All assets of Nicolas Maduro subject to U.S. jurisdiction are frozen," the department announced in a statement Monday, "and U.S. persons are prohibited from dealing with him."
The move, which marks only the fourth time the U.S. has imposed economic sanctions on a sitting head of state…
---
Closing Bell
– Monday, July 31st
Markets See Mixed Finish as Tech Selloff Continues
Big Insider Trades
– DuPont Fabros Technology, Inc. (DFT)CFO Jeffrey Foster Sells $4m
– Crown Castle International Corp. (CCI) Director Martin Landis Buys $3m
Winners & Losers
– Dynavax Technologies Corp. (DVAX) Soars UP (71.35%) After FDA Panel Greenlights Hepatitis B Vaccine
– Hertz Global Holdings, Inc. (HTZ) Crashes DOWN (21.16%) After Analyst Downgrade Points Out Numerous Industry Challenges
The TIP Sheets
– Monday, July 31st
– Ocular Therapeutix, Inc. (OCUL) Discovery Communications Tumbles DOWN (9.30%) After Acquiring Scripps Networks Interactive. However, Many Analysts Predict the Move is a Safe Bet and Call the Combination "a Natural". Expect Shares to Bounce Back UP
Unusual Volume
Altria Group, Inc. (MO) Slips DOWN (2.94%) on 28m Shares Traded After Friday's FDA Announcement Regarding Plans to Cut Nicotine Levels in Cigarettes to Non-Addictive Levels. Expect Shares to Continue DOWN
The Capitalist Newsletter – July 31, 2017
FDA ANNOUNCES REGULATORY PLAN TO TARGET BIG TOBACCO; ARE PROFITS GOING UP IN SMOKE?
Tobacco has an interesting history in the U.S. The country was basically founded on the stuff, giving Americans (and the world) a high opinion of the plant for centuries. But in the modern world, tobacco has lost much of its luster as the harmful side effects of smoking have been revealed. Yet Big Tobacco has survived and thrived in spite of the growing public opinion against smoking. Now, however, the FDA has just thrown a massive punch against the industry by announcing plans to cut nicotine levels to non-addictive levels. Is this a death blow for Big Tobacco?
Read The Capitalist's Take Here
---
REINCE PRIEBUS OUSTED AS CHIEF OF STAFF; REPLACED BY GEN. JOHN F. KELLY
Gen. John F. Kelly, a retired Marine general who grew up in Boston, was tapped as the new White House chief of staff on Friday in a stunning announcement by President Trump. Kelly, an Irish Catholic, had a brief stint as secretary of Homeland Security. Before he headed DHS, he had recently ended a long and distinguished career in the military. Last February, he retired after serving four decades in the Marines. His last post was as head of the U.S. Southern Command, which oversees Latin America and the Caribbean.
Read More at The Washington Post Here
Read More at The Guardian Here
---
AFTER 20+ YEARS, SAMSUNG PASSES INTEL AS WORLD'S LARGEST MICROCHIP MAKER
Samsung registered a record profit of $12.6 billion in its second quarter earnings report, but hidden in those numbers lies another milestone. Of its $54 billion in revenue, $15 billion came solely from Samsung Semiconductors — pushing it above the $14.8 billion that all of Intel brought in. In short: Samsung just ended Intel's 24-year-reign and became the largest chipmaker in the world. But Samsung didn't get there by outselling processors — it's been …
Read More at Yahoo Finance Here
---
Closing Bell
– Friday, July 28th
Dow Sees New Record, Nasdaq and S&P Fall as Tech Slips
Big Insider Trades
– iRobot Corp. (IRBT) EVP Glen Weinstein Sells $1.2m
– Dell Technologies, Inc. (DMT) CEO Michael Dell Buys $1m
Winners & Losers
– LeMaitre Vascular, Inc. (LMAT) Shoots UP (19.51%) After Analysts Upgrade Stock Following Q2 Results
– Destination Maternity Corp. (DEST) Plummets DOWN (42.21%) After Merger Deal is Canceled
The TIP Sheets
– Friday July 28th
– Altria Group, Inc. (MO) Slides DOWN (9.49%) After FDA Lays Out Roadmap to Cut Down on Tobacco-Related Deaths. New Guidelines Will Focus on Lowering Nicotine Levels to Non-Addictive Levels, Meaning Longtime Customers Will Start Dwindling as Quitting Smoking Becomes Easier. Expect Shares to Continue DOWN
Unusual Volume
Starbucks Corp. (SBUX) Falls DOWN (9.24%) Shares on 53m Shares Traded After Company Announces Closure of All 379 of its Teavana Stores. Starbucks Bought the Brand for $620m in 2012. Additionally, While the Company saw a Revenue Bump, New Customers are Declining, Meaning SBUX is Losing Market Share. Expect Shares to Continue DOWN
Disclaimer: 

All quotes are in local exchange time.  Real time last sale data provided by The Dow Jones.  The Dow Jones branded indices are proprietary to and are calculated, distributed and marketed by S&P Dow Jones Indices LLC and/or its authorized affiliate, and have been licensed for use to The Capitalist.  All content of The Dow Jones branded indices © 2016 S&P Dow Jones Indices LLC and/or its affiliates.  Standard & Poor's

®

 and S&P

®

 are registered trademarks of Standard & Poor's Financial Services LLC.  Dow Jones

®

 is a registered trademark of Dow Jones Trademark Holdings LLC.  The Capitalist is not an affiliate company of S&P Dow Jones Indices LLC, Standard & Poor's Financial Services LLC, Dow Jones Trademark Holdings LLC, or their respective affiliates.