The Capitalist Newsletter – March 30, 2017
TRUMP READY TO RELEASE TAX REFORM PLAN; HERE'S WHAT TO EXPECT
Fresh on the heels of scrapping his America First Health Plan, President Trump is turning his attention to his promised tax reform. But after finding resistance from not only the Democrats, but his own party, as well, will Trump change his strategy? While there is as yet no official look into Trump's plan, based on his campaign promises and actions thus far in office, we can make some educated predictions. What can we expect from Trump's coming tax reform plan?
Read The Capitalist's Take Here
---
THERESA MAY OFFICIALLY INVOKES ARTICLE 50; BEGINS BREXIT PROCESS
Long-awaited divorce proceedings between Britain and the European Union formally began on Wednesday when Prime Minister Theresa May invoked Article 50, the legislation that formally kicks off a two-year-long Brexit process. Since May has triggered Article 50, the EU must respond within 48 hours. The bloc — which marked the 60th anniversary of its founding on Saturday — will convene a summit for April 29.
---
SAMSUNG LAUNCHES GALAXY S8; LOOKS TO PUT GALAXY 7 DISASTER IN THE PAST
Samsung Electronics Co Ltd (005930.KS) unveiled its Galaxy S8 flagship smartphone as it battles to regain the market leadership it lost to Apple Inc (AAPL.O) after the embarrassing withdrawal of the fire-prone Note 7s.
Boasting some of the largest wrap-around screens ever made, the long-awaited S8 is the South Korean technology company's first new premium phone since its September recall of all Galaxy Note 7 smartphones equipped with fire-prone batteries. Samsung halted their sales in 10 markets, and the phones were banned from aircraft in the United States, denting a revival of the firm's mobile business…
Read More at Wall Street Journal Here
---
Closing Bell
– Wednesday, March 29th
Dow Down, Nasdaq and S&P Up as Crude Makes a Run at $50
Big Insider Trades
– Nielson Holdings plc (LDOS) CEO Dwight Barns Sells $1.9m
– Adaptimmune Therapeutics Plc (ADAP) Director Peter Thompson Buys $5m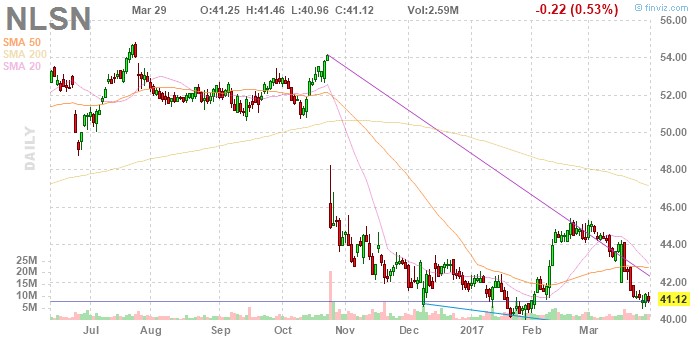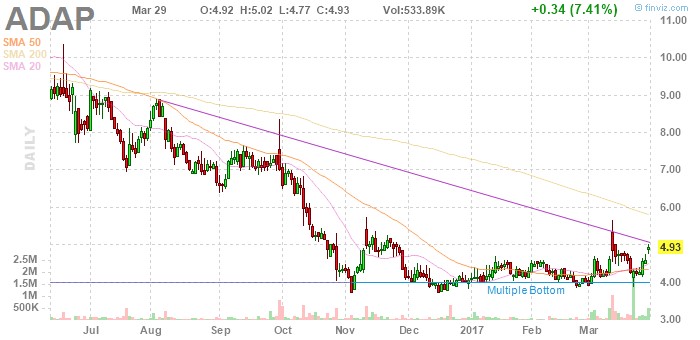 Winners & Losers
– Exar Corp. (EXAR) Rises UP (22.32%) After Agreeing to be Acquired at a Substantial Premium
– Catalyst Biosciences, Inc. (CBIO) Drops DOWN (29.98%) After Losing Momentum Following an Almost 200% Rise the Day Before After New Drug Gets Approval from Korean Ministry of Food and Drug Safety
Most Talked About
Vertex Pharmaceuticals, Inc. (VRTX) Considered a Near-Unanimous Strong Buy After the Company Ups its Cystic Fibrosis Offering
The TIP Sheets
– Wednesday, March 29th
– Vertex Pharmaceuticals, Inc. (VRTX) Rises UP (20.45%) After the Company Releases Extremely Positive Data from Two Important Phase 3 Trials for Cystic Fibrosis Drugs Which Significantly Improve Lung Functionality. Expect Shares to Continue UP
Unusual Volume
Tonix Pharmaceuticals Holdings Corp. (TNXP) Soars UP (34.52%) on 30m Shares Traded Announcing the Company Will Present at The MicroCap Conference in April. This is Following a 1:10 Reverse Stock Split. Expect Shares to Continue UP