The Capitalist Newsletter – May 1, 2017
APPLE'S CASH PILE SOARS TO $250 BILLION
Apple made a big deal about its launch of Apple Pay. Expectations were through the roof as the iPhone maker was poised to revolutionize digital currency through customers' phones. But that never happened. In fact, people hated Apple Pay. Apparently, Apple isn't giving up, though. After seeing the wild popularity of PayPal subsidiary Braintree's Venmo, a peer to peer payment system, Apple is giving it another go. What's going to be different about this version of Apple Pay? Should Apple just give up already?
Read More at Fox Business Here
Read More at The Wall Street Journal
---
TRUMP SIGNS EXECUTIVE ORDER OPENING UP OFFSHORE DRILLING IN THE ARCTIC, ATLANTIC OCEANS
President Trump signed an executive order Friday that could lead to the expansion of drilling in the Arctic and Atlantic oceans, saying it will reverse his predecessor's Arctic leasing ban and create "great jobs and great wealth" for the country.
Trump said the executive order, titled "Implementing an America-First Offshore Energy Strategy," will direct a "review of the locations available for off-shore oil and gas exploration" and related regulations.
Read More at Washington Post Here
---
NORTH KOREA LAUNCHES FAILED MISSILE TEST IN SPITE OF WORLD PRESSURE
North Korea test-fired a ballistic missile on Saturday shortly after U.S. Secretary of State Rex Tillerson warned that failure to curb Pyongyang's nuclear and ballistic missile programs could lead to "catastrophic consequences". U.S. and South Korean officials said the test, from an area north of the North Korean capital, appeared to have failed, in what would be the North's fourth straight unsuccessful missile test since March. The test came as the USS Carl Vinson aircraft carrier group arrived in waters near the Korean peninsula, where it began exercises with the South Korean navy on Saturday, about 12 hours after the failed launch, a South Korean navy official said.
---
Closing Bell
– Friday, April 28th
Markets Tick DOWN as Financials Sag
Big Insider Trades
– VRTX (VRTX) CEO Jeffrey Leiden Sells $18.75m
– Twitter, Inc. (TWTR) CEO Jack Dorsey Buys $9.5m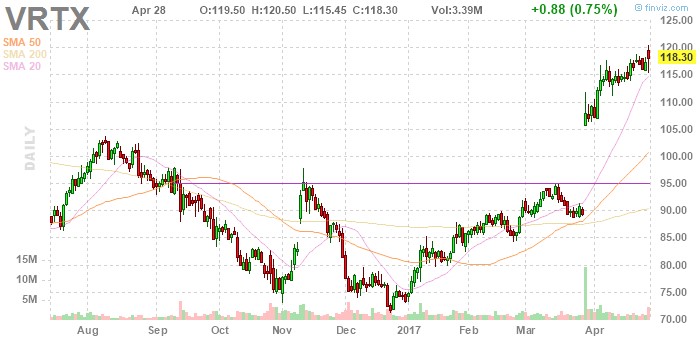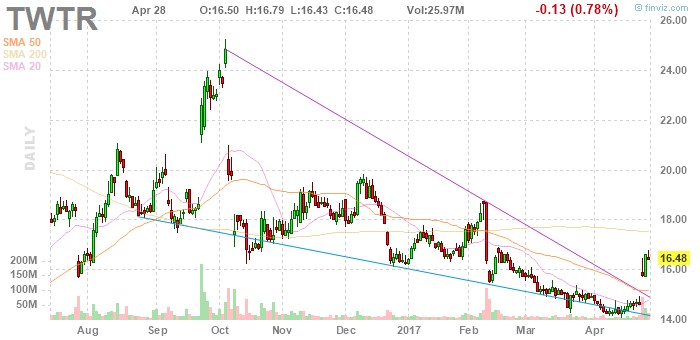 Winners & Losers
– STRATTEC Security Corp. (STRT) Roars UP (30.16%) After Earnings Report Show Company Nearly Doubled Profits in the Last Quarter
– Matrix Service Company (MTRX) Hammered DOWN (30.39%) on Major Project Troubles and Profit Warning
Most Talked About
Radius Health, Inc. (RDUS) Considered a Near-Unanimous Strong Buy After FDA Approves Osteoporosis Drug
The TIP Sheets
– Friday, April 28th
– Time, Inc. (TIME) Slides DOWN (16.94%) After the Company Decides Not to Sell Itself. As the Company Struggles with Going Digital, Expect Shares to Continue DOWN
Unusual Volume
Synchrony Financial (SYF) Tumbles DOWN (15.89%) on 46m Shares Traded After the Company Sets Aside More Money for Soured Loans Than Analysts Expected. Expect Shares to Bounce Back UP